Kickbusch Encourages Students' Individuality
by John Dykstra '13 • December 3, 2010

Share:
Former Lt. Colonel Consuelo Castillo Kickbusch spoke before Wabash students and members of the community Thursday night in Korb Classroom. Castillo Kickbusch's talk encouraged individuality, optimism, pursuing dreams, and questioning behavior.
President of Unidos Por Sangre (UPS) Alejandro Maya heard Castillo Kickbusch speak in Chicago and wanted her to come to Wabash. "She took a pay cut to speak tonight; she wanted to give this speech," Maya said. "She is someone I could say, 'That could be my relative.' No matter who you are, she wants to know you."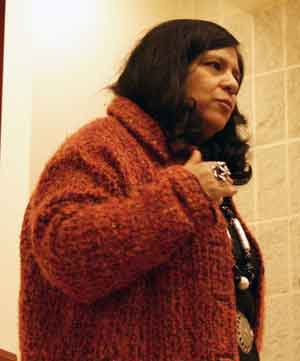 Castillo Kickbusch served in the military for 26 years and resigned before she could attain a higher position. She left on her own accord, for her husband and to help educate others and influence them to never put a limit on their abilities.
"I think there are often times in our life's struggles that we are trying to convey a message that is a universal message that we hope all humanity will acknowledge" she said. "We may all come from our own place of understanding, but the real gift in life is human being—to be open in our hearts and minds."
Many individuals in the world are afraid and put their individuality aside to feel accepted. By doing so, they erase their own identity, their own culture, and an opportunity to impact our world, according to Castillo Kickbucsh. Through her life story, she discussed the importance of individuality.
"We focus too much on leaving a legacy, when we should be living one," she said. "So many people just exist in life, without functioning." Kickbusch emphasized that so many of the students that fail in the educational system only need a sense of purpose. They need someone to care about them.
"A real importance in life is: who are you?" she said. "I'll tell you right now, it's evolutionary because you will be affected by the many experiences. But there will always be this long quest that we will have in our life on earth. I did not realize this gift of allowing myself to be what I fought for early in my life and I'm telling you to embrace who you are."
Castillo Kickbusch learned English as a second language, and has a learning disability. She expressed how America's educational system discourages students through racism, but she did not label that discouragement as an excuse to not achieve. "Humans create their own hurdles," she said. "If you believe a stereotype and accept it, you have already lost.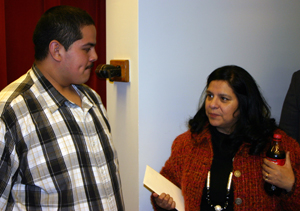 "You are going to be continuously bombarded through mediums; you're going to be continuously perturbed by noises, quotes, and words—and all of these things are going to be influential. My prayer for you is that you adopt these universal truths that will help you get through life in the best manner. To really be successful is about power, but don't lose yourself. Don't believe that unless you get to this point, at this moment, and do this thing that you are a failure. It's about embracing the journey and accepting those bumps in the road and learning from them. But don't be a victim of those things, otherwise you won't get to fulfill your full potential."
Her family influenced her to achieve, but obstacles stood in the way. She said that a doctor inspired her to be who she is today, a hurdler of obstacles and educator of service. In that, she learned the importance of education.
"The doctor said, 'Miss Castillo, we are going to change you and the philosophy of certain kids around the world, Because they are poor has nothing to do with their intellectual capacity.'
"Many of you students have professors who have high expectations. Well, after you write that paper over again, you may wonder if they even like you. Really, they do. Those are the best professors, the ones that, on their watch, want to see you achieve in the real world. Those are world-class educators."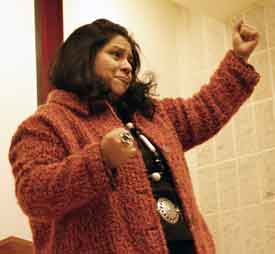 Kickbusch stayed late, talking with members of the audience. When she talked to students, she addressed them by their first name and as "friend." During her talk, she emphasized she was not here to talk about her accomplishments, but to prove that anything is possible and to encourage students to make haste towards their own goals.
"It's about you and what you want to do by keeping balance between those things you go after in life and the way you serve others," she said. "Service doesn't have to be that you have money or time. Service means that you are doing at least one act of kindness to change the world. If all of us have a sense of optimism, we can really change the community, where many of our communities have lost hope."
UPS President Alejandro Maya '13 said he learns more every time he hears Kickbusch speak. "She has a message that impacts us all," he said. "More students and faculty outside of UPS need to hear her message."
Kickbusch closed with some inspirational words for the young people in the crowd, especially those whose parents did not attend college. "A first generation student is a family's greatest hope," she said. "Your place is here. To study, to succeed, and then someday to go back home, question, and make a difference."
Photos by John Dykstra. Gabe Watson '13 also contributed to this story. In middle photo: UPS President Alejandro Maya talks with Kickbusch.