Civil War Historian to Talk About Lew Wallace Book
• November 29, 2010

Share: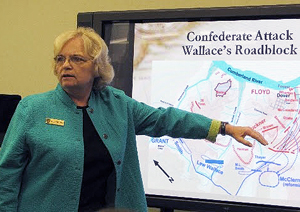 Author and noted Civil War historian Gail Stephens will discuss her new Lew Wallace book at 7:30 p.m. Tuesday in Salter Hall.
Stephens' talk will be titled "Rejected: How Lew Wallace Rebounded from Civil War Shame to Save Washington D.C." Her new book is "Shadow of Shiloh" about Crawfordsville native Lew Wallace.
Stephens currently volunteers at the Monocacy National Battlefield near Frederick, Md., lectures on the Civil War, gives battlefield tours and teaches in that area.
She retired from the Department of Defense after 26 years. He earned her Bachelor's degree in international politics from George Washington University and did graduate work at Johns Hopkins and Harvard.
She was honored in 2002 by the National Parks Service with its E.W. Peterkin award for her work to promote public understanding of Civil War history.
Copies of the book will be available at a reception following the lecture.