Smith Scores 34 in Wabash's 71-54 Win
by Brent Harris • November 26, 2010

Share:
Senior guard Wes Smith scored a season-high 34 points to guide Wabash to a 71-54 victory over Otterbein University in the second game of the 2010 Pete Thorn Invitational. The Little Giants will face second-ranked Randolph-Macon College in Saturday's championship game after the Yellow Jackets defeated Wisconsin-La Crosse 71-47 in game one.
View photos from the Little Giants' victory here, here, and here.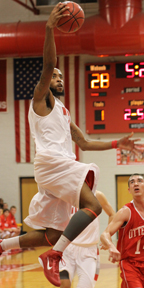 Smith tied his career-best effort by hitting 14 field goals, equaling the 14 shots he made against Hanover in 2008. He has also helped Wabash to open the season 5-0 --- the best start by the Little Giants since the 1980-81 season --- by averaging 25.6 points through the first five games.
Both teams got off to a slow start, with neither squad scoring in the first four minutes of the contest. The Cardinals led by one point on two different occasions in the first half before a 20-6 run by Wabash put the Little Giants in front to stay. Smith scored nine points during the run. Junior AJ Sutherlin drilled two huge three-pointers as well during the scoring spurt to give Wabash the 14-point advantage. Sutherlin would add driving layup along the left baseline to put the Little Giants up 36-20 with 1:56 left to play in the opening period, the same differential that Wabash would take to the locker room at halftime.
Smith canned one of his two three-pointers to open the second half, extending the lead to 19 points. Otterbein would get as close as 13 points in the final period thanks to Brice Rausch and Nathan Edick before Wabash stretched the advantage to as many 25 points.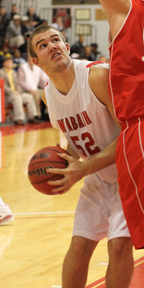 Smith was 14-of-19 from the field, including 2-of-5 from beyond the three-point arc. He was perfect from the free throw stripe, connecting on all four attempts. He also grabbed seven rebounds to go with a steal and a blocked shot. Sutherlin and freshman Pete Nicksic (right) each finished with eight points. Nick Curosh had nine rebounds to help the Little Giants take a 40-29 rebounding advantage over Otterbein. Brian Shelbourne dished out six assists and had three steals.

Rausch led the Cardinals (1-2) with 14 points, while Edick scored 11. Zach Bakenhaster paced Otterbein with seven rebounds.

Otterbein and Wisconsin-La Crosse will play the consolation game at 1 p.m. Saturday afternoon before Wabash and Randolph-Macon meet at 3 p.m. in the tournament title game.

Tournament Box Scores and Leaders




Results: Wabash 71, Otterbein 54 Game Stats