Five Wabash Wrestlers Place at Concordia Open
by Brent Harris • November 22, 2010

Share:
Five Wabash wrestlers, led by Jake Moore and Dalton Stanley at 165 pounds, earned top-eight places at Saturday's Concordia University Wrestling Open.
Moore and Stanley claimed two of the final eight places by advancing to the championship semifinals in the 165-pound weight class. Moore advanced to the championship bout by starting with a pin at 1:57 into his bout against Josh Trygstad from Northland. A 9-5 victory over Jonathan DiBuono from Elmhurst in the second round moved Moore into a match against sixth-seeded Dan Wierzba from Wisconsin-Stevens Point. The unseeded Moore won 6-0 to move to the championship quarterfinals where he once again defeated a seeded opponent with a 6-4 win over third-seed Jase Schossow from Wartburg. Moore scored another win in the championship semis with a 4-3 win over second-seeded Rafael Rodriguez from Muskegon, but lost a heartbreaking 3-1 decision to top-seeded Jordan Schulte from Wisconsin-Stevens Point in the championship bout to take second place.
Stanley scored four consecutive pins to advance to the semis. The fourth seed heading into his first match against Benjamin Kirsch from Case Western Reserve, where Stanley recorded a pin two minutes into the bout. Stanley added pins against David Swanson from MSOE (4:10), Jason Nelson from Wartburg (1:54), and fifth-seeded Jim Layton from Chicago (5:58) to setup a semifinal bout against the top seed Schulte. Stanley fell 8-4 in the semis, followed by a 10-8 loss to eighth-seeded Yousef Al-Ghoul from Elmhurst and a 6-4 loss to second-seeded Rodriguez to take sixth place.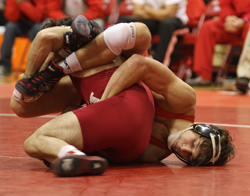 Jake Strausbaugh (left) earned a third-place finish in the 149-pound weight class with an overall record of 5-1 for tournament. He opened with a technical fall against Mike Gossen from Loras, scoring a 22-6 victory six minutes into their bout. A 19-9 major decision over Muskegon's Kyle Windquist moved the fifth-seeded Strausbaugh on to the next round, where he scored a 5-4 decision over fourth-seeded Ryan Earley from Elmhurst. The victory set up a championship semifinal bout against top-seeded Isaac Dukes from Case Western Reserve. Dukes claimed a 9-1 victory, dropping Strausbaugh to the consolation bracket, where he rallied for pair of victories — 5-3 over Wartburg's Cameron Wagner and 5-0 against Earley in a rematch of their previous bout — to take third place.
Senior Graham Youngs finished fourth in the 157-pound weight class. He started with a 15-3 major decision against Kyle Wichman from York, followed by a 10-5 win against Sean Jarvis from Loras. An 18-5 major decision in the championship quarterfinals over Elmhurst's Sheldon Hubbard put Youngs up against Colton Wagner from Wartburg. Wagner knocked off the seventh-seeded Youngs 3-1.The Wabash senior came back to win a wild 14-12 victory in the consolation semis against Tom Jung from Elmhurst before losing 8-4 to fifth-seeded Virgil Pope from the Milwaukee School of Engineering.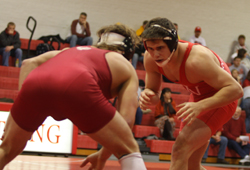 Fourth-seeded Greg Rhoads (right) took third place at 184 pounds. He opened with a 10-1 major decision over Muskegon's Nathan Bazan before being pinned by UW-Whitewater's David Dwyer at the 3:30 mark in their bout to move to the consolation bracket. Rhoads responded with a pin at 4:32 against Christian Alcantara from Triton, then got a major decision with a 12-3 win against Jamel Wheatley from York. A 3-2 victory against third-seeded Justin Marble from Wheaton sent Rhoads to the consolation finals where he won 9-5 against Augustana's Hunter Feraco.




For more information see: