Wabash Wrestlers Battle IU
by Brent Harris • November 18, 2010

Share:
The Wabash wrestling team took on Division I program Indiana University Thursday night in a dual meet at Chadwick Court. The Little Giants hung tough in several matches despite losing 44-0 to the Hoosiers.
View photos from the matches here.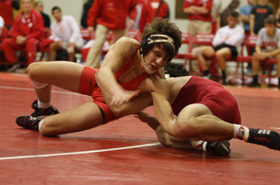 Freshman Marc Escobedo opened the competition at 125 pounds against Justin Brooks from IU. Escobedo recorded two escapes in the second period to draw within two points of Brooks before eventually losing 8-2.
Sophomore Jake Strausbaugh (left) stayed even with Geno Capezio through two periods at 149 pounds, scoring a takedown on a quick leg-scissors move before heading into the third period. Capezio scored the only points in the final period with a take down, eventually adding a point for riding time in a 5-2 decision.
Sophomore Tyler McCoy (below right) recorded a takedown in the third period of his 165-pound bout against Ross Powell to make the score 6-4. McCoy could not get any more points in the period, losing by the two-point decision.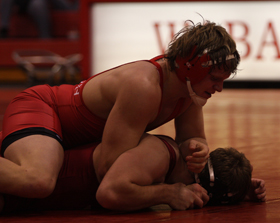 Dalton Stanley, a freshman from Topeka, Kansas trailed early before matching Nick Avery move for move in their 174-pound bout before the final 8-3 win by Avery. Greg Rhoads was within two points of Eric Cameron at 184 pounds before two takedowns and riding time gave the IU wrestler a 10-5 decision.
Wabash travels to Wisconsin Concordia for the Falcon's Open Invitational
Results - Indiana 44, Wabash 0
125 - Justin Brooks (IU) defeated Marc Escobedo (W) 8-2
133 - Matt Ortega (IU) pinned Bobby Perry (W) at 2:45
141 - Mitchell Ritchey (IU) pinned Garrett Payne (W) at 1:05
149 - Geno Capezio (IU) defeated Jake Strausbaugh (W) 5-2
157 - Ryan Konz (IU) pinned Graham Youngs (W) at 1:41
165 - Ross Powell (IU) defeated Tyler McCoy (W) 6-4
174 - Nick Avery (IU) defeated Dalton Stanley (W) 8-3
184 - Eric Cameron (IU) defeated Greg Rhoads (W) 10-5
197 - Matt Powless (IU) won by technical fall over Dylan McBride (W) 26-11 (fall time 5:00)
285 - Ricardo Alcala (IU) pinned Zach Stone (W) at 2:05