Emeritus Professor Shares How Hovey Shaped Wabash
• November 18, 2010

Share: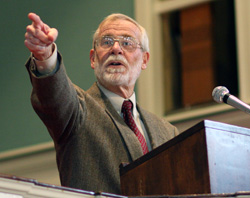 Professor of Chemistry Emeritus David Phillips shared his interest in Wabash College history for Thursday's Chapel Talk.
Phillips titles his presentation "In the beginning there was Hovey" or Edmund Hovey a man who served Wabash from the very beginning to more than 40 years. He hired Caleb Mills as the first Wabash professor and Elihu Baldwin as the College's first president.
Phillips explored the milestone's of Hovey's life and career and how he helped shaped Wabash during the 1800s. He was a Dartmouth College graduate where he made friends with a young Caleb Mills. He also counted Charles White among his mentors, who later became the second president at Wabash.
Watch Phillips' entire presentation in the video below.