Monon Bell DVD Will Arrive in Time for Christmas Gifts
• November 17, 2010

Share: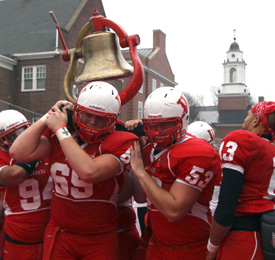 The 117th Wabash-DePauw football game was one most Little Giant fans are not going to forget and may want to re-live. The annual Monon Bell Classic DVD will be available in early December at the Wabash College Bookstore.
The DVD will feature the play-by-play call of Kenny Rice and Paul Maguire along with interviews and all the Monon Bell pageantry and traditions.
The DVD would make a great Christmas gift for any Little Giant fan and the chance to remember the 47-0 Wabash win over the Tigers.
Keep your eye on the Wabash website and
Bookstore website
for the DVD's arrival. It will sell for $14.95. It will be available on a first-come, first-served basis. Supplies will be limited and no pre-orders will be accepted.