Monday Morning Bell Notes
by Howard Hewitt • November 15, 2010

Share:
There are always notes, quotes and maybe a few facts left over from a good story. Such is the case from Wabash's incredible domination of DePauw in Saturday's Monon Bell Classic: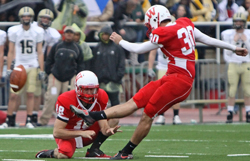 Whitehead's Right Foot
As Jim Amidon wrote in his Monday morning local newspaper column, who would have thought a single field goal would be enough to beat DePauw?
Coach Erik Raeburn must have thought it was an omen. "My first two Bell games started off with missed field goals so that was a nice change," he said.
That fact wasn't lost on the record-setting senior placekicker. "Me and (holder) Kyle (Grand) really wanted to start things off right, and what had happened the last two years was in the back of our mind," Whitehead told the Crawfordsville Journal Review.

The Bloomington South HS graduate also made a 31-yard field and was 5-for-6 on extra points and finished tied for Wabash's career leader with 117 made extra points.

"Spencer has done a great job all season long, not just on the extra points and field goals but on his kickoffs," Raeburn added.
Few Drops in Bell Game
Quarterbacks and receivers alike realized there were too many dropped balls in the loss at Wittenberg. "A few of the balls they caught surprised me with the wet gloves and wet ball," Quarterback Tyler Burke said. "Some of those were All-American type catches. They were squeezing it today and that really helped Chase (Belton) and me out."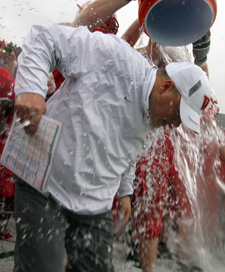 Next Year
Football programs always have to be looking ahead. Coach Erik Raeburn noted it was a good day to have recruits on campus.
"We had a lot of guys here today and hopefully they like what they saw," Raeburn, now 2-1 in Bell games, said. "Hopefully we can get them back on campus sometime soon."
The impact of a big win wasn't lost on junior receiver Jon Horn either.
"We have a lot of confidence going into the off season to work harder," the Indianapolis Cathedral HS graduate said. "We want to keep the Bell here again next year. It motivates the seniors going in for 6 a.m. workouts and spring ball. We're going to have a great off-season then get ready to go again."