Musicologist in Residence This Week
• November 11, 2010

Share:
Professor Peter Burkholder, Distinguished Professor of Music at Indiana University's Jacob School of Music, will be in residence at Wabash November 15-17, and will give a public lecture November 16.
Dr. Burkholder, past president of the American Musicological Society, will visit several classes, dine with students, and give a lecture entitled "Music of the Americas and Historical Narratives on Tuesday at 7:30 in Korb Classroom.
"Peter is a friend of Wabash and a graduate of Earlham College," said Wabash Music Professor Larry Bennett. "More importantly for our students, he is the author of the most widely used textbook in English about music history [A History of Western Music]. Our students use it in four different courses."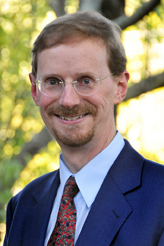 Professor Burkholder received his undergraduate degree in music from Earlham College, and earned his master's degree in music composition and Ph.D. in the history and theory of music from the University of Chicago. He taught at the University of Wisconsin before coming to Indiana University in 1988. He is also Adjunct Professor of Comparative Literature and served as Associate Dean of the Faculties in 1995-2000.
Professor Burkholder's studies of musical borrowing have shown how and why composers from the Renaissance to the 20th century reworked existing music to create new pieces. By emphasizing the variety of borrowing techniques used in each era and their continuity across time, he has helped to establish borrowing as a distinct field of study. He has also reshaped views of the American composer Charles Ives by illuminating Ives's ideas, methods, training, artistic development, and relationship to the European classical tradition.
Professor Burkholder is interested in pedagogy and has published on strategies for teaching music history. In 2001 he was asked to rewrite the leading music history textbook, A History of Western Music. His first edition was published by Norton in 2005 and is now used by most music majors in North America.
Professor Burkholder's research has garnered awards from the American Musicological Society, the Society for American Music, and the American Society of Composers, Authors, and Publishers, and grants from the American Council of Learned Societies, among others.
He has served as President of the American Musicological Society and is President of The Charles Ives Society.
His lecture Tuesday night lecture is free and open to the public, and is sponsored by the Lecture Committee.