Little Giants Fall at Wittenberg
by Howard W. Hewitt • November 6, 2010

Share:
SPRINGFIELD,Oh. – Two-third quarter touchdowns were not enough Saturday for Wabash to muster a come-from-behind win at Wittenberg, 34-17. The Little Giants have a week to regroup for the Monon Bell Classic.
View photos of the game here, here, here, and here.
The 9-0 Tigers can claim the NCAC title and automatic playoff qualifier Saturday at Wooster. Wabash (7-2) will face its second straight unbeaten in Depauw while trying to maintain possession of the Monon Bell.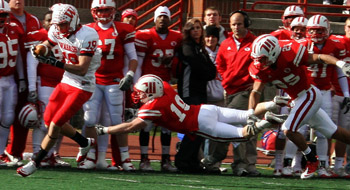 No. 9-ranked Witt controlled the line of scrimmage, particularly on third down, while the Little Giants were unable to convert a couple of early offensive opportunities. Time of possession reflected the struggle, Witt kept the ball 41:48 to Wabash's 18:12.
"We didn't get any pressure on the quarterback and he picked us apart," Coach Erik Raeburn said. "It's disappointing, particularly in the first half, we had good opportunities on third and long where we didn't make any plays and they did. We just couldn't get off the field at all."
Wabash's first-half score came on a Spencer Whitehead 41-yard field goal. But a Jake Martin pick and 80-yard return yielded nothing when a field goal attempt was wide left.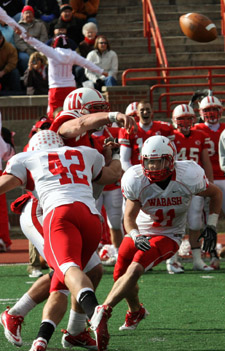 Witt built the lead to 24-3 early in the third quarter before the Little Giants showed a pulse. Not surprisingly any more, Wabash got going when freshman Nate Scola blocked a Wittenberg punt. The block was the 11th of the season for the Little Giants, tying the NCAA Division III record for blocked kicks in a season set by Benedictine University in 1987.

Tyler Burke, who alternated possessions at quarterback with Chase Belton, directed the Little Giants to their first touchdown. On a fourth down, Burke hit Brady Young for a 12-yard score, 24-10.

The next time the Little Giants touched the ball, Chase Belton found Jon Horn down the right side for a 65-yard score, 24-17. The defense forced Witt into its first three-and-out of the day and the Little Giants had a possession where they could have tied the score.

The opportunity to fight back out of the deep hole ended when a Burke pass was tipped into the air and intercepted. On the next play, Ben Zoeller hit Anthony Kralich for a 27-yard touchdown to open the game back up for Witt, 31-17.

Wittenberg's offensive dominated with 503 total yards to Wabash's 183. The Tigers rushed for 186 yards to Wabash's 23. Witt's Zoeller hit on 24-34 passes while Burke was 7-19 and Belton 6-14.

Dan Ryan Wood had an outstanding day defensively with 15 tackles, Sam Smith was credited for 10.

The Little Giants have little time to recover. "Whether you win or lose, when you play a bunch of big games in a row you have to have the ability to shift gears and move on to the next game. As painful as the loss is we'll have to move on and put it behind us if we're to have any chance on Saturday."




Results: Wittenberg 34, Wabash 17