Brian Sims Message Aimed at Straight Audiences
by Gabe Watson '13 • November 5, 2010

Share:
Brian Sims, Staff Counsel for Policy and Planning at the Philadelphia Bar Association, and more widely known as an openly gay All-American football player from Bloomsburg University, spoke at Wabash Thursday night. His talk was a part of Wabash's Multicultural Festival and was sponsored by the 'shOUT club, the College's gay, lesbian, and straight student alliance.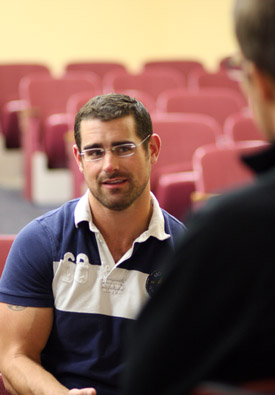 Sims began by distinguishing his own experiences from the image through which he is sometimes introduced. "I didn't come out to my football team," he said. "They came out to me."
He recalled the various experiences he shared with his teammates and coaches as they came to terms with his sexual orientation during his record-setting senior season. The interactions were surprisingly positive and supportive, which turned out to be one of Sims's primary points. "81 percent of people support gay rights, yet they think that only one-third of their peers do."
Sims said the problem is the few people who oppose gay rights are far more vocal. "Statistically, our generation is the most progressive in history for rights," he said. "We simply do not know it."
He blamed the "guilty by association" mentality. One's friendship or even association with an openly gay person often draws questions about his own orientation. Luckily, Sims says, that is all changing.
Comfort with oneself has always been considered cool, so when straight people support gay rights openly, they show their own security while helping the gay cause. "I would rather have one straight ally than five gay activists," Sims said.
Further than that, he had a message for those against gay rights: "if you think I'm an abomination, please go tell everyone you meet. It will benefit me."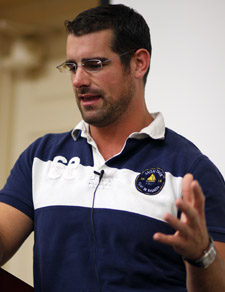 When a group so strongly advocates against something like gay rights he said, it causes the people who neither support nor oppose gay rights to move away from that group. Rather than associate with extremists, the people in between tend to move towards more accepting people. The only problem remaining for Sims's cause is the silence of supporters.
Sims said many people think the recent string of young gay suicides was a result of those children having no gay friends. But Sims disagrees, "they didn't need gay friends; they needed straight allies."
He continually stressed the importance of being openly accepting, and he cited the fact his straight college football friends, now mostly teachers and coaches, have far more people come out to them than he ever has. This happens because his friends talk about their experiences with Sims. They make it clear to the world that they are accepting of who a person is no matter what.
With messages like that, Sims is a better messenger to a straight audience than to a gay one. His message was overall entirely inclusive and supportive.
shOUT President Leon Back '11 agreed. "Sims's means of communication is perfect for reaching beyond the LGBT community. His promotion of straight advocacy is a message important to everyone."