Cook '66 Tells Students to Remember, Forget Well
by Howard Hewitt • November 4, 2010

Share:
A Chapel Talk favorite son returned to campus Thursday. Professor Bill Cook '66 visited campus to a packed and appreciative student, faculty, staff audience.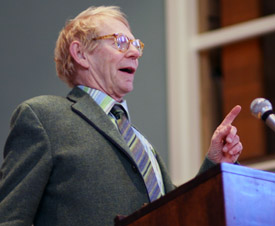 Cook, who spent the past two years at Wabash, is the Distinguished Professor of History at State University of New York at Geneseo. He is also known as one of the world's foremost scholars of Saint Francis of Assisi.
The always-colorfully dressed Cook received an ovation when he entered prior to the start of Chapel and made his way up the center aisle greeting old friends with handshakes and hugs.
His talk was titled "Remembering Well and Forgetting Well."
He led the students through a thoughtful lesson in life about remembering all sides of important events and also the importance of letting go.
"Wabash always remembers," he said near the end of his remarks. "Wabash needs to learn to forget as well."
No summary does it justice. Watch cook's entire Chapel Talk in the video below.