Photographers Back in Class
by Jim Amidon • November 4, 2010

Share: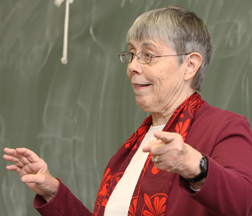 Professor Leslie Day is pacing quietly in the front of her Detchon Hall classroom as her seven students in an Introductory Greek course scribble away on sheets of paper. She says that the students have short quizzes at the start of each class period — Monday, Wednesday, and Friday — and they receive Chips Ahoy cookies when they turn in the quiz.
Professor Bob Olsen stands near a chalkboard while his organic chemistry students are busily working under hoods. He says he's teaching three organic lab sections as he completes his final year at the College — going out teaching the course he started teaching when he arrived in 1979.
Professor Gilberto Gomez charges up to greet each and every student in his Spanish class. Everything is said in Spanish and when the exchange concludes, each student hands their professor a paper. Over the next 30 minutes, hardly a word of English is uttered.
Biology Professor Eric Wetzel peers closely into slides and explains to his students in parasitology what they'll be seeing under the microscope.
Theater Professor Dwight Watson sits at the end of a group of tables and gently guides a Cultures and Traditions discussion in which every student seems to have an opinion.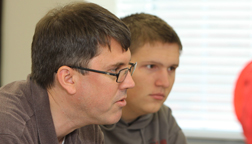 This is the important, everyday work of teaching and learning at Wabash College. And the Public Affairs and Marketing Office was pleased to spend the week peering into the life of this vibrant campus.
The office tries to sneak into classes for an all-campus photo shoot every year or so. During the second week of November, the staff managed to capture life in about 40 different classrooms, labs, and studios.
Dean Gary Phillips is fond of saying, "At the heart of teaching and learning on this campus is engagement."
These photos represent the everyday, transformative work of engagement at Wabash College.
— Professor Leslie Day's Introductory Greek Course and Spanish with Professor Gilberto Gomez
— C&T with Professor Dwight Watson and Biology with Professor Eric Wetzel
— Chemistry Lab with Professors Ann Taylor and Wally Novak
— Organic Chemistry with Professor Bob Olsen and Physics Lab with Professor Jim Brown
— In the studio with Professor Doug Calisch and in class with Professor Cheryl Hughes
— Engagement with Professors David Polley, Eric Olofson, and Greg Huebner
— Pulling students into the discussion with Professors Alexandra Hoerl and Rick Warner
— Biology Lab with Professor Polley and "Fatherhood" with Eric Olofson
— 2D and 3D Art Studios with Professor Huebner and Professor Calisch
— Philosophy with Professor Hughes and Professor Gunther's Sensory and Perception class
— English with Professor Lamberton and Physics with Professor Krause
— Creative Writing with Professor Eric Freeze
— The Society of Physics Students' 2010 Physics Heptathlon
— Economics with Professor Christie Byun and Rhetoric with Professor Jennifer Abbott
— Teacher Education with Professor Butler and Science Fiction with Professor Campbell
— Calligraphy in Elementary Chinese with Visiting Instructor Ssu-Yu Chou
— Learning and Cognition with Professor Bost and Portuguese with Professor Wilson
— Philosophy with Professor Samuel Rocha and Chemistry with Professor Lon Porter
--- Discussion on Mexican film with Professor Dan Rogers
— Comparative Politics with Professor Ethan Hollander
--- C&T with Mathematics Professor William Turner