Ensembles a Treat on Family Day
by Steve Charles • November 2, 2010

Share: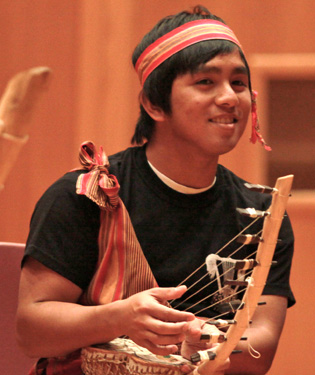 Children sang a Banyoro-Batooro people's teaching song; woodwinds played Lennon and McCartney's "When I'm Sixty Four"; the brass chimed in with J.S. Bach's The Art of the Fugue while the jazz band played "Satin Doll." And, of course, there was the inevitable sea chanty.
In other words, something for everyone as the five Wabash College music ensembles capped off Family Day with rousing performances for an appreciative audience much larger than one ever would have expected on "trick-or-treat" night.
See photo albums from the evening here, here, and here.
In photo: Bryan Burzon '11 plays the apila for the Wamidan World Music Ensemble during Saturday night's Family Day Concert.