All-American Player to Share Personal Story Tonight
by Howard Hewitt • November 1, 2010

Share: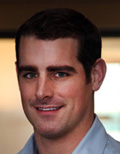 Brian Sims, Staff Counsel for Policy and Planning at the Philadelphia Bar Association, will speak on campus Thursday evening. Sims speaks on diversity issues based on his background as a gay All-American football player at Bloomsburg University.
Sims earned a degree in the School of Business at Bloomsburg then studied at the University of Innsbruck, Austria, before earning his law degree at Michigan State.
He serves with a number of leadership organizations regarding Gay and Lesbian rights as well as Advocates for Legal Equality.
Sims was a scholar athlete at Bloomburg and captain of a team that reached 2000 National Div. ii Championship Div. II game. Sims came out to his football teammates during that year and has largely reported that his teammates were receptive or indifferent but not hostile because of his sexuality.

Sims credits, in part, the fact he was a star player for the acceptance by teammates.
He will speak about his experiences during a 7 p.m. talk in Baxter 101. His talk is sponsored by shOUT. shOUT is the Wabash College gay, lesbian, and straight student alliance.
Sims appearance coincides with other speakers and activities part of the College's Multicultural Festival.