Little Giants Repeat Second-Place Finish at NCAC Championship Meet
by Brent Harris • October 30, 2010

Share:
Four Wabash runners earned All-North Coast Athletic Conference honors Saturday afternoon, helping the Little Giants to a second-place finish at the annual cross country conference championship. Wabash served as host for men's and women's 2010 championship meet.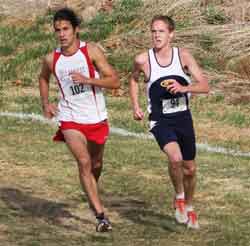 Senior Seth Einterz (right) picked up First Team All-NCAC honors for the fourth straight season with his fourth-place finish out of a field of 101 runners. Einterz finished the 8,000-meter course with a time of 25:52.1 Junior Kevin McCarthy earned Second Team All-NCAC honors with his eight-place finish (26:21.2). Donavan White was also a Second Team All-NCAC runner for the second consecutive season, grabbing 10th place with a time of 26:33.8. Brian David took 15th place, just missing a spot on the Second Team. He earned a place on the Honorable Mention All-NCAC team by finishing in 26:50.4.
Kenny Farris finished 27th for the Little Giants (27:25.0). Teammate Jake Ponton was the highest-finishing freshman to claim the NCAC Men's Newcomer of the Year Award. Ponton crossed the finish line in 27:33.1. Michael Gough (28:17.5) was 45th, while Corey McFarland finished 50th (28:30.0). Jacob Surface (29:24.8) took 71st place. Patrick Carter was 74th (29:30.4).
Wabash scored 64 team points, trailing Allegheny in first with 35 total points. The Gators claimed their seventh consecutive NCAC men's title. The Little Giants return to action on Saturday, November 13 at the NCAA Great Lakes Cross Country Regional at Hope College in Holland, Michigan.
2010 NCAC Men's Cross Country Results (pdf)