Allegheny, Oberlin Repeat NCAC CC Titles
by Brent Harris • October 30, 2010

Share:
The Allegheny men and Oberlin women repeated as North Coast Athletic Conference cross country team champions Saturday afternoon at the annual title meet. The Gators posted their seventh consecutive NCAC crown while Oberlin won for the second straight season.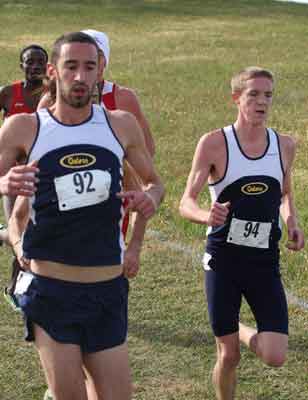 Allegheny senior Chris Marker (#92 left) won the individual men's title, crossing the finish line in 25:24.8. Teammate Jeramie Parker (#94 left) took second place with a time of 25:31.7. Dee Salukombo from Denison was third (25:44.6), while Seth Einterz scored a fourth place finish for the host Wabash College team.
Ohio Wesleyan runners Sharif Kronemer and Kale Booher took fifth and sixth place, respectively. Kronemer ran the 8000-meter course in 26:07.8 while Booher finished in 26:12.6 Allegheny's Zac Ross was the last runner to earn First Team All-NCAC honors with a seventh-place finish (26:13.1).
The Gators, ranked second in the nation in latest US Track & Field and Cross Country Coaches Association poll, placed five runners in the top-13 men's places to finish with 35 total points. Wabash was the runner-up for the second consecutive season, scoring 64 points this year. Ohio Wesleyan finished third (83) with Denison taking fourth place (89). Oberlin (114), Wittenberg (154), Kenyon (193), Wooster (222), and Hiram (261) completed the men's team scoring.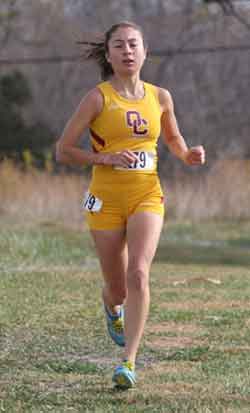 Oberlin's Joanna Johnson (right) dominated the women's championship race. Johnson, who was second at the 2009 race, finished in 22:03. Ohio Wesleyan's Kat Zimmerly trailed in second place by 52 second, crossing the finish line in 22:55.8. Allegheny, nearly completing the sweep by finishing second in the women's team scoring, had runners Kelly Gallagher and Kristina Martin finish fourth and fifth, respectively. Gallagher completed the 6,000-meter course in 23:11.8, while Martin earned the Women's Newcomer of the Year award with her time of 23:19.5. Ohio Wesleyan's Cara DeAngelis finished fifth (23:21.1), while Wittenberg's Mary Pfeifer (23:23.4) was sixth. Molly Martorella from Oberlin grabbed the final spot on the All-NCAC First Team, finishing seventh with a time of 23:24.1.
Oberlin scored a total of 56 points to take the women's title, edging Allegheny by two points. The Gators took second with 58 points, while Kenyon was third with 84 points. Denison and Ohio Wesleyan tied for fourth with 105 total points. Wooster was sixth (122), with Wittenberg finishing in seventh place (137).
Wabash rookie Jake Ponton was the NCAC Men's Newcomer of the Year with his 28th-place finish.