Inventor/Advocate Explores the Liberal Arts/Technology
by Steve Charles • October 27, 2010

Share: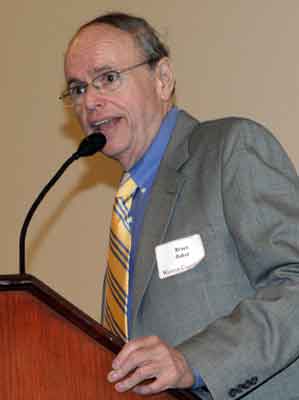 Linguist, inventor, entrepreneur, and advocate Bruce Baker '65 will discuss "The Liberal Arts' Impact Upon Emerging Technologies" during a special lecture at 4:15 p.m. Thursday in Baxter 101.
Baker is the inventor of the Minspeak device, a simple electronic keypad that uses a small set of icons to represent hundreds of words and phrases. Baker used his own liberal arts education and his knowledge of Latin, Greek, Hieroglyphics, and Mayan verbs to imagine how symbols and pictures with multiple meanings could be combined to create a visual language that enables the severely disabled to communicate effectively.
Baker's company, Semantic Compaction Systems, has developed the Minspeak device for use in more than a dozen languages around the world, and Baker himself has become one of the most outspoken advocates for the disabled.
Proclaimed a "Healthcare Hero" in his hometown of Pittsburgh, Baker is also the founder of the nonprofit SHOUT (Support Helps Others Use Technology), which studies and advocates for the employment of individuals who rely on augmentative devices such as Minspeak. The organization also hosts a regular conference drawing attendees from around the world.
An honorary degree from Wabash awarded Baker in 2006 reads: "You embody the best of the liberal arts spirit, turning your personal passion for language into a program that enriches the lives of people in need, and combining the ancient and modern into a seamless, life-giving enterprise."
Thursday's lecture is free of charge and open to the public.