Wabash Set To Rebound Against Oberlin
by Brent Harris • October 15, 2010

Share:
For the first time since 2007 Wabash football returns to Byron P. Hollett Little Giant Stadium to try and rebound from a road loss.
The Little Giants lost a heart-breaking 24-21 contest at DePauw on November 10, 2007 on a last-second field goal before defeating Mount St. Joseph 31-21 at home in the first round of the playoffs. Saturday Wabash will face a much-improved Oberlin College (2-3, 1-2 NCAC) team after suffering a 24-20 defeat at Washington-St. Louis last Saturday.
However, for Wabash (4-1, 2-0 NCAC) the focus will be as much on its own execution as it will be on its opponent.
"We've got to have some mental toughness," Head Coach Erik Raeburn said. "Certainly the loss to Washington-St. Louis is disappointing, but we always tell the players you get to celebrate a win for 24 hours then move on and you can only dwell on a loss for 24 hours before you move past it and prepare for your next game.
"We still have to eliminate the penalties and mental mistakes. We didn't execute on several plays on both offense and defense. That has very little to do with your opponent and more about preparing both mentally and physically for the game. We have played five games now. You shouldn't have any assignment errors. Some things are out of your control. You should be able to eliminate mistakes in areas that are in your control."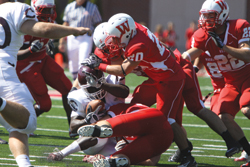 Despite the loss, there were several areas where the Little Giants continued to show the execution that lead to four wins to start the season. Senior JD McClintic recorded the seventh blocked kick of the season to end the Bears' first offensive drive. The missed field goal helped Wabash extend its first quarter shutout streak to five straight games. Wabash has outscored opposing teams 41-0 in the opening period heading into today's game versus Oberlin. Junior quarterback Tyler Burke threw one touchdown pass and ran for a three-yard score in the closing minutes of the game to give the Little Giants a three-point lead. Burke came into the game after starter Chase Belton suffered an injury late in the first half.
Senior Derrick Yoder proved his value not only as a runner, but also as a receiver out of the backfield. Yoder caught a one-yard TD strike from Belton in the second quarter to tie the game at 7-7, then danced down the sideline on a 40-yard catch and run from Burke in the third period. Yoder accounted for 114 yards of total offense for the Little Giants.
The Little Giants will face a tough opponent in Oberlin. The Yeomen came close to knocking off undefeated Wittenberg University — ranked sixth in the nation at the time — in a 27-21 contest two weeks ago. Head Coach Jeff Ramsey's squad is the top team in red zone scoring in the North Coast Athletic Conference with 17 scores in 19 trips and is third in overall scoring offense (29.4 points per game).
Sophomore quarterback Josh Mandel has already thrown for 784 yards and eight touchdowns in four games. Mandel threw for 212 yards and two scores against Case Western Reserve in a 48-36 loss last Saturday. Senior Joey Zebelian has also provided a spark on offense, throwing for 547 yards and seven TDs, giving Oberlin two threats at the quarterback position. Alex Niec, Ryan Harvey, Danny Enright, and Cory Kidd all have more than 15 receptions this season and average more than 40 receiving yards a game. The Yeomen ground game is averaging 119.8 yards per game, led by junior Drew Mixter with a 47.6 yards-per-game average.
Wabash vs. Oberlin - Game Day Info
The Erik Raburn Show - Week Six vs. Oberlin