Wabash Day 2010 - Zionsville
by Steve Badger '87 • October 11, 2010

Share:
Wabash alumni and their families put in a hard day's work helping the Morning Dove Therapeutic Riding Center. Morning Dove offers equine-assisted therapy services to a wide range of people with physical, mental and/or emotional disabilities. The Riding Center has 18 horses and many acres of pasture and riding trails. New participants are referred by physicians or therapists, or find Morning Dove by word of mouth.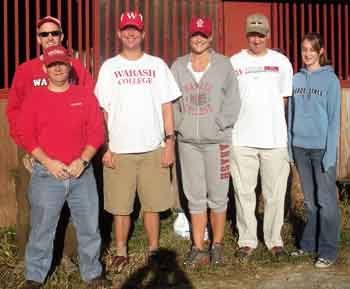 We were grateful for the unseasonably warm weather as we spent the day doing grounds work at the stables, pastures and riding trails. Our accomplishments included cleaning out the horses' stalls, washing and refilling with fresh water the drinking troughs, clearing debris from the trails, moving hay and other miscellaneous tasks. We started our day by gathering at Patrick's Kitchen in Zionsville for a hearty breakfast and good company before we started our work at Morning Dove.
We thank the following volunteers for participating: Bill Havlin ('84), Chuck Whybrew ('94) and his wife Melissa, Scott Benedict ('98), Scott Quick ('88), and my daughter, Kelsey. Special thanks to Scott Benedict and Tony Ridolfo ('92) for working with me to organize this year's event in Zionsville.