Wabash Men Celebrate Living Humanely
by Howard Hewitt • October 11, 2010

Share:
From coast to coast picking up trash, painting, and working in food banks, Wabash Men celebrated the sixth-annual Wabash Day with community service.
The effort to get Wabash men into their communities and practice living humanely featured groups serving in every imaginable way. Wabash Alumni Benefiting and Serving Humanity is the theme which began the annual effort in 2005.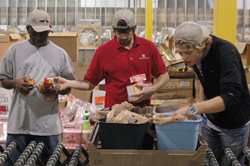 Men in Wabash wear worked on a trail project in Avon, packed Thanksgiving dinners in Colorado, worked a food bank in Kansas City, and hosted a pancake breakfast in Greenfield, In. Obviously there were many more interesting projects and great fellowship at cities across the nation.
Many of the groups return to the same projects throughout the year and are now seeing the impact of their work. "This is our third year in a row of helping them (Rails to Trails in Avon)," said Jim Kerr '92, "It's been kind of cool just seeing what this is going to mean to our community. It's one person's dream that's now turned into hundreds of people helping and turning these unused railway lines into hopefully a fitness trail someday."
See photos from the Hendricks County project
here
.
National project chairman Jon Pactor '71 called the sixth year a big success. "While the final numbers will be good, Wabash Day is about values that are not easily quantifiable," Pactor said. "Alumni organized projects across the country as part of our requirement under the Gentlemen's Rule to be 'responsible citizens.' "
"Our alumni provided leadership to carry out the college's mission statement for humane living. It was a family event for many Wabash men who worked with their wives, kids, and parents. Wabash men represented classes spanning more than 50 years. Friendships were made, and others strengthened among the greater Wabash family and our communities."
In a day of highlights, Crawfordsville's effort really stood out with nearly 80 students joining local efforts. Herm Haffner '77 recruits students throughout the year to work local Habitat for Humanity projects.
"I want to give special thanks to Bobby Wade, president of the Wabash Habitat for Humanity Club, who helped me round up volunteers, as well as all the students whose participation exceeded our expectations," Haffner said.
We'll get the reports up on the web as they come to us, so check back throughout the week.