Wabash Day 2010 - Colorado
by John Panozzo, '89 • October 11, 2010

Share:
Wabash alumni gathered once again on another beautiful fall day in Colorado to participate in our 6th W.A.B.A.S.H. Day event.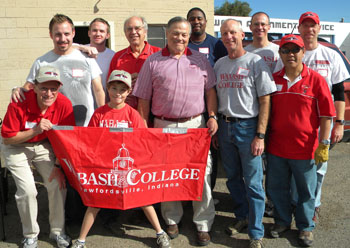 Our service project was once again at the Jeffco Action Center in Lakewood. The Jeffco Action Center is human services nonprofit organization which has served the basic human needs of the residents and homeless of Jefferson County since 1968.
Our day involved packaging and boxing complete family Thanksgiving Day dinners (minus Turkey) at their warehouse facility. The Jeffco Action Center will deliver Thanksgiving dinner boxes to over 4,000 families this November. After our work was completed alumni met at the home of John Panozzo, '89 for lunch and alumni fellowship.
Census: Harry Phillips, '65, Tim Gagen, '76, Al Hart, '69, Kai Chin, '71, Todd Mikesell, '87, Doug Ross, '05, Jim Roper, '68, Matthew Roper (age 9), Dave Rosborough, '10, Adam Boushie, '00, John Panozzo, '89