Wabash Day 2010 - Chicago
by Jacob Pactor '04 • October 11, 2010

Share:
"The birds don't poop during the night," Charlotte Newfield of the Bill Jarvis Bird Sanctuary said. "They need to conserve their energy while flying."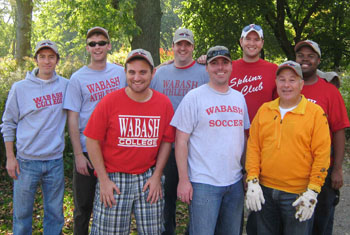 And that's how Wabash Day in Chicago began for the 9 Wabash alumni and 17 total people connected to Wabash who volunteered at the Sanctuary on Saturday, October 9, 2010. The Little Giant volunteers collected trash, removed the invasive nightshade plant, and collected seeds from native plants to be replanted before the first snowfall.
In addition to enjoying Newfield's levity, the volunteering offered alumni a chance to put into practice what they learned at Wabash. Boyce Evans '08, a German major, to use what he learned in Professor of Biology Amanda Ingram's Plants and Human Affairs class. Current teachers Jeremy Robinson '04 and Jacob Pactor '04 spent time talking with current high school student Sydney Stewart when not mulching a 50-foot area.
Joe Martin combined Wabash Day with his T-Rowe Price co-workers: Greg Stewart and his daughter Sydney, Fran Solis and his wife Aimee, Brent Andersen and his fiancé Heather, Rich Fernandez, and Kyrie Bock.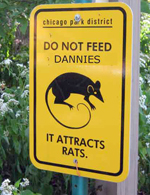 The Bill Jarvis Migratory Bird Sanctuary sits along the city's lakefront and provides eight acres of essential woodland and wetland habitat for migratory and resident birds. Each spring and summer, millions of birds spot over in Chicago to rest and refuel on their route from northern breeding grounds to southern wintering grounds. A viewing platform and walking path provide ample opportunities for bird watching.
Census: John Dewart '10, Ben Esbaum '07, Boyce Evans '08, John Flanagan '66, Jake Koeneman '06, Joe Martin '06, Jacob Pactor '04, Morgan Patchell '05, Jeremy Robinson '04