Incident at Vichy Runs Thru Saturday
by Jim Amidon • October 5, 2010

Share:
The Wabash College Theater season opened Wednesday with a moving and somber Arthur Miller play, Incident at Vichy, a seldom-performed play written by one of America's greatest playwrights. The play runs through Saturday night with curtain each evening at 8:00 p.m.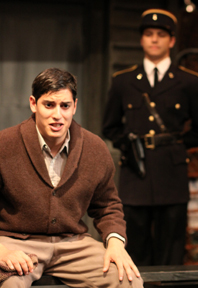 Miller, who won the Pulitzer Prize for
Death of a Salesman
, based
Vichy
on the actual events in the French city of Vichy in the midst of World War II when a group of men were pulled from the street by French police and confined without knowing their fate or even why they were captured. Along the way, they discover the limitations of tolerance, and the potential for generosity in one of the bleakest moments in human history.
"Vichy is a play about big ideas: the capacity for denial in the face of death, the inhumanity of bureaucracy, even the presence of God in one of the most horrific moments in human history," said Director James M. Cherry. "But one idea that is central to Vichy is the extent to which people are—perhaps inevitably—unknowable to each other. Miller suggests that the experience of an individual person can never be entirely comprehended by another, that no life can be completely shared with another person."
James Gross designed and lit the dank confines in which the men find themselves captive and amplifies their misery. Andrea Bear has again imagined every costuming detail for the World War II period.
The cast includes a number of Wabash Theater veterans, as well as newcomers — and even Josh Brewer, who is the husband of English professor Agata Szczeszak-Brewer. Starring in Incident at Vichy are Samuel Bennett, Donovan Bisbee, Steve Ellis, Josúe Gutierrez, Daniel Lesch, Josh Lutton, Chris McCloskey, Gus McKinney, Raynor Mendoza, Matt Meyer, James Morey, Adam Phipps, Jordan Plohr, Clarke Remmers, Luke Robbins, Austin Sanders, Liam Smith, Davis Thompson, Chet Turnbeaugh, and Drew Zromkoski. Kristijonas Paltanavicius is the stage manager.
"I think it's going along swimmingly," Cherry said at Monday night's dress rehearsal. "It's Arthur Miller, the cast is engaged and talented, the designers have built a beautiful set and costumes. As a director, I can't ask for anything more. And for such a serious play, I have had an amazing amount of fun with the cast. They have been terrific to work with."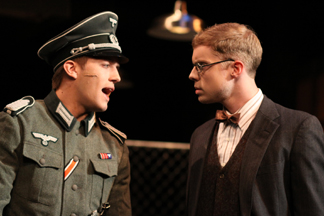 Veteran Gus McKinney plays an evil Nazi, who orders French police to bring Jewish men — one by one — into a room where they are presumably killed or transferred to a concentration camp. James Morey plays an Austrian prince who is both royal and gentile, which suggests he alone may be allowed to leave. Luke Robbins turns in a powerful performance as a Jewish doctor, who realizes his fate and hopes to convince the other captives to plan an escape — or die trying.
Through it all, most of the captives can't begin to fathom "the furnaces" or the train cars full of people being transported to their death. After all, they are in the French "free zone" and have done nothing wrong; they are simply there because of a series of misunderstandings.
"In Vichy, Miller asks us to question how people may unknowingly enable the perpetrators of genocide, how the human tendency is often to look away rather than at the unintended collusion with evil," Cherry added. "In doing so, he recalls Hannah Arendt's description of the sad, bespectacled Eichmann sitting in the dock for war crimes, and reiterates how the perpetrators of genocide look like ordinary people, because they are."
Incident at Vichy was first performed in 1964 and is being staged for the first time at Wabash College. Tickets are free, but reservations are recommended through the Fine Arts Center Box Office (
boxoffice@wabash.edu
or 765-361-6411).
The play contains powerful and disquieting themes, and is appropriate for high school students and above.