Rwandan Scholar Lectures Wednesday
• October 4, 2010

Share:
Scott Straus, one of the nation's leading scholars and most-published authors on the violence in Rwanda, will give a 4:15 lecture Wednesday, Oct. 6, about his visit to the African country.
Straus' talk, "A Short History of Violence in Sub-Saharan Africa," will be held in Baxter 101.
"Students should be interested in Straus because he's an expert on genocide in an age when, unfortunately, genocides show no sign of ending," said Wabash political science professor Ethan Hollander. "And he's an expert on human rights at a time and in a region where those rights are severely threatened."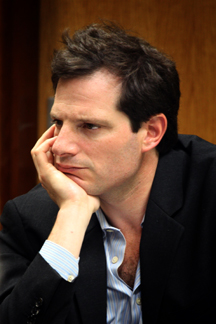 Straus is the author of three books, dozens of journal articles, and nearly 50 front-page newspaper stories on the widespread violence across Sub-Saharan Africa.
The Order of Genocide: Race, Power, and War in Rwanda (2006) received a number of awards, including the 2007 Choice Outstanding Academic Title award, the 2006 Award for Excellence in Government and Political Science by the Association of American Publishers, and received Honorable Mention for the 2007 Herskovits Prize by the African Studies Association.
"Straus' book is really one of the authoritative accounts of the Rwandan genocide as well as a leading contribution to current scholarship about genocide and ethnic violence more generally," Hollander said.
"It really is a fantastic honor to have Straus visit our campus. I hope that people from Wabash and the surrounding community will take advantage of this wonderful opportunity," Hollander added.
Straus is an associate professor of political science and international studies at the University of Wisconsin-Madison where he teaches, among others, courses on genocide, human rights, African politics, and international studies. Straus has won praise for his teaching, most recently with the William Kiekhofer Distinguished Teaching Award in 2009. He received his bachelor's degree in English from Dartmouth College and both his master's degree and Ph.D. in political science from the University of California at Berkeley.
Straus is also the author of Intimate Enemy: Images and Voices o the Rwandan Genocide (with Robert Lyons) and Africa's Stalled Development: International Causes and Cures (with David Leonard).
Straus got his start as a freelance journalist in East and Central Africa in the late 1990s, where he reported for the Houston Chronicle, San Francisco Chronicle, The Baltimore Sun, Toronto Globe and Mail, and London's Guardian newspaper. He published 45 front-page articles covering 15 African nations. In 1996, he was nominated for a Pulitzer Prize for his work in the Houston Chronicle.
He is an editorial board member for Genocide Studies and Prevention, the journal of the International Association of Genocide Scholars (peer-reviewed journal) and the journal African Affairs.
Straus' lecture is free and open to the public, and will be followed by a reception and book signing.