Elementary Students Visit Lilly Library
by Howard Hewitt • September 28, 2010

Share:
More than 50 students jammed Lilly Library Tuesday morning taking notes, asking questions, and checking out periodicals in the reference section. The only thing different than a normal day was the students were all seven to eight years old.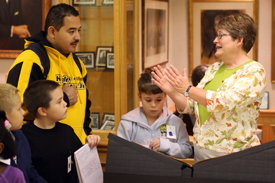 Nicholson Elementary School teachers Steven Spencer and Shelley Wheeler brought second and third graders to Lilly Library before a planned stop downtown at Crawfordsville Community Library.
See photos from the morning visit
here
.
"We've been studying libraries," Spencer said. "We set up our own library in our classroom so we wanted to come out and look at the community."
Wabash Reference Librarian Jeff Beck helped make all the arrangements for the visit. Even current Wabash men had their interest piqued as the youngsters studied maps and asked questions.
"My goal was they learn something new that we haven't already studied about libraries," Spencer said. "So that's why the College setting seems to be a good choice."