NAWM Honors Alumni & Friends
by Jim Amidon • September 25, 2010

Share:
The National Association of Wabash Men held its annual meeting Saturday during the 2010 Homecoming Alumni Chapel. While the business of the meeting was short and sweet, the honors the NAWM bestowed on alumni and friends were festive and celebratory.
The NAWM presented its highest honors — the Alumni Awards of Merit and Honorary Alumna — and also honored men for their service to the Admissions Office and Schroeder Center for Career Development.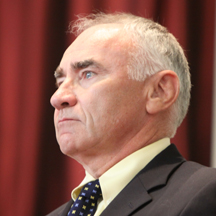 The Alumni Board also made a surprise announcement — a very well kept secret — when it honored Tom Runge '71, the College's Director of Alumni and Parent Relations, with the Clarence A. Jackson Career Service Award.
Honored Saturday were Alumni Award of Merit winners Charles Crowley '70, Richard Regnier (posthumously), Dr. Ross Zumwalt, and Runge.
Long-time swimming coach Gail Pebworth was named an Honorary Alumna, while Ron Klene, a retired Lawrence North High School teacher was honored for his contributions to the College's Admissions Office.
Long-time Swimming Coach Gail Pebworth was named an honorary alumna in the Class of 1991.
Two new awards were also presented — the Alumni Career Services Award was presented to Alex Miller '71 and Scott Medsker '04 was honored with the Young Alumnus Service Award.
"This Homecoming Chapel provides us with an opportunity not only to relive our Wabash days, but more importantly to celebrate the men and women who have made, and continue to make, our Alma Mater so special and her impact so far-reaching," said NAWM President Mark Dewart '74.
Before the awards were presented, President Patrick E. White welcomed alumni, their families, and the College's friends to the official start of Homecoming activities.
"Homecoming," President White said, "what a beautiful word and an even more beautiful action… In the lives and in the actions of these few individuals we honor today, we see in them the highest imagination of ourselves.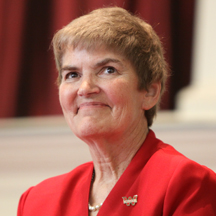 "In the act of coming home you bring new life to Wabash."
Coach Pebworth led the Wabash swimming and diving team to an 18-year dual meet record of 131 wins and just 20 losses and recorded five top-20 finishes at the NCAA Championships, including eighth place finishes twice.
"Your true meaning to Wabash lies in the way you mentored and inspired hundreds of men who competed under your leadership," Dewart said in reading her citation. "You taught them to win or lose with dignity and class. You treated novice, even first-time swimmers with the same respect as your elite All-Americans. You modeled for your men a constant pursuit of excellence and you demanded nothing less than each man's best effort.
"Our mission at Wabash calls our students to think critically, act responsibly, lead effectively, and live humanely. In you, Gail Moll Pebworth, we have a living example of how that mission is manifest and all the good that can come from a single person in pursuit of excellence.
Runge's name wasn't on the official list of award winners; the NAWM Board of Directors voted secretly to honor him with the Jackson Award. And since Runge coordinates the slating of potential candidates — and every other aspect of the Homecoming Alumni Chapel
"Throughout your tenure you have helped us determine the most deserving alumni to receive our highest honors, the Alumni Awards of Merit," Dewart said. "When we paused to note that the Clarence A. Jackson Career Service Award "shall be presented to a Wabash alumnus who has distinguished himself by outstanding contribution to his chosen vocation," your name grabbed our attention. For we realize that you have had not one, but two distinguished careers, and for that we honor you today."
The NAWM gave two-career salute to Runge, who was an Air Force Colonel in his first career before coming to Wabash as Director of Alumni and Parent Relations.
"All of us thank you for your ability to bring together disparate groups of alumni working toward a common goal; your wisdom and thoughtful approach to problem solving; and your unwavering love of and respect for Wabash College," Dewart added.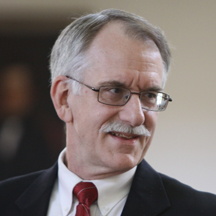 Chuck Crowley '70 received the Fredrick J. Urbaska Civic Service Award for his lifetime service to the greater Minneapolis community. Crowley has served in a number of leadership positions in programs that provide services to adults with disabilities. He's presently the Executive Director of Metro Work Center, Inc.
"This position seems a perfect capstone for your remarkable career since you provide employment opportunities, life skills development support, community integration, and recreation activities for adults with developmental disabilities so that they can function with dignity in your community," Dewart said. "Chuck, we ask our students to think critically, act responsibly, lead effectively, and live humanely, and we could do no better than to hold you up as an example of an alumnus whose calling is in perfect harmony with the College's mission."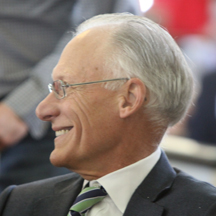 Dr. Ross Zumwalt '65 has been at the forefront in the evolution of crime scene investigators and forensic medicine. A commencement speaker at his graduation, Zumwalt earned his medical degree from the University of Illinois, and now serves as the Chief Medical Investigator in Albuquerque, New Mexico.
"Through your illustrious career, we imagine that you've spent more time on the witness stand in murder trials than all of those actors on all of those CSI shows combined," Dewart quipped. "Your keen intellect, insatiable curiosity, and leadership in the forensic medicine community make you a model Wabash man living out the mission of the College."
Margaret Regnier, the widow of Dick Regnier, attended the Homecoming Chapel to receive the NAWM's Frank W. Misch Alumni Service Award for her late husband.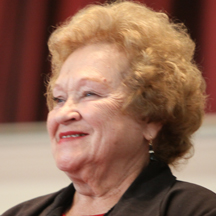 Regnier was known as "Mr. Phi Psi" during his decades of volunteerism and leadership of the Phi Kappa Psi chapter at Wabash. He was not only a part of the founding pledge class of the chapter when it re-colonized in the early 1950s, he served as president of the housing corporation and chief fund-raiser for the chapter house's renovation in 2007.
"Dick was a true Wabash man in every sense of the word, and friends say that his relationship with the undergraduate and alumni members of Phi Kappa Psi was unparalleled," said Dewart. "He built and sustained Indiana Gamma's greatness and taught literally hundreds of young men the values of leadership, service, kindness, and love. Described by his friends as a 'driving force,' a 'quiet leader,' and a man of 'great impact,' Dick's legacy will long be remembered when undergraduates walk by his portrait, which hangs in the Great Hall — Regnier Hall — of the Phi Kappa Psi chapter house."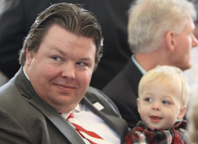 R. Scott Medsker '03, a Class Agent and member of the NAWM Board of Directors, received the Young Alumnus Service Award. He is a frequent volunteer for Admissions Office events, and is a leader of the Nation's Capital Association of Wabash Men.
"R. Scott Medsker, the College's Alumni Office would like nothing better than to be able to clone you," Dewart said. "For you exhibit the qualities we hope to instill in all of our alumni in your dedicated service to your alma mater.
"That you've served the College so deeply in such a short period of time has us excited about what you will mean to the College in the future. As one of your friends and colleagues told us, 'Scott understands that the Wabash network is a crucial part of life after Wabash, and mutually helpful to all alumni.'"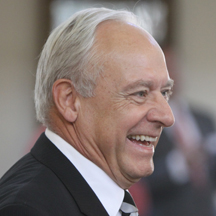 Even though Ron Klene is not a Wabash alumnus, the NAWM deemed him worthy of being named an Alumni Admissions Fellow. Klene has been deeply involved in Wabash's successful Moot Court competition, and that work has included bringing scores of high school students to the College. He has also actively recruited on Wabash's behalf, and is directly responsible for 6-10 current Wabash students being on campus in any given year.
"While we tend to focus on the alumni who return to their alma mater at Homecoming, we're just as pleased to have you with us today, for you have spent far more time on this campus than the majority of our alumni," Dewart said. "Over time, you've developed a method of identifying ideal students for Wabash… And these are good, Wabash men of substance and accomplishment you have guided to this great College."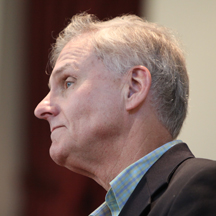 Retired Rear Admiral Alex Miller '71 has received the College's highest honor — an Honorary Degree — but the National Association of Wabash Men selected him as the first person to be named an Alumni Career Services Fellow.
"You have often returned to campus to talk to students who are pursuing a career in the Navy — or any vocation for that matter," Dewart said. "And when Wabash men say they want to live and work in Washington, D.C., you go out of your way to lend a hand. We honor you today for your kindness and integrity. As one student said, 'Admiral Miller goes out of his way to treat every person he meets with the utmost dignity and respect.'"