Jennifer Burns to Lecture on Ayn Rand
• September 22, 2010

Share:
As part of the Lecture Committee's guest speaker series, Wabash College welcomes Dr. Jennifer Burns, who will give a Tuesday evening lecture titled "In Defense of Capitalism: The Ideas of Ayn Rand."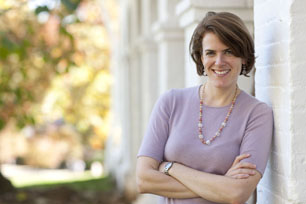 Dr. Burns' lecture will be on Tuesday, September 28 at 8:00 pm in Baxter Hall's Lovell Lecture Room (101). A reception and book signing will follow in the Rogge Lounge.
Burns is a noted historian from the Corcoran Department of History at the University of Virginia, where she teaches courses on American political, cultural, and intellectual history. She completed her undergraduate work at Harvard, where she graduated magna cum laude, and received her master's and Ph.D. degrees in history from the University of California, Berkeley.
"Dr. Burns' lecture on Rand's life and work is sure to inspire a lively debate in the community," said Assistant Professor of Economics Christie Byun. "Interest in Rand's work has experienced a recent resurgence, as people discuss the effectiveness of a capitalist system in contemporary society and reconsider the role of government in the everyday lives of citizens."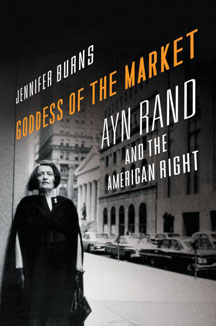 Her new book,
Goddess of the Market: Ayn Rand and the American Right,
features extensive research on Rand's life, work, and influence, based on Burns' exclusive access to Rand's personal papers and journals.
"I am an intellectual historian with a particular interest in how both intellectuals and ordinary Americans have balanced belief in capitalism with other competing ways of understanding the world, particularly religious world views," said Burns on her website. "In an unexpected twist, my interest in capitalism and Christianity led me to study the work and career of America's favorite atheist, the libertarian novelist and philosopher Ayn Rand."
Burns has also published extensively on conservative and libertarian political thought in a variety of both academic and mainstream journals. In 2010, she was honored as a Distinguished Lecturer by the Organization of American Historians. She has made numerous appearances as a guest speaker on a variety of television and radio programs, including the Cato Institute, National Public Radio, and the Daily Show with Jon Stewart.
More information about Dr. Burns' research, as well as links to her various media appearances can be found
www.jenniferburns.org
.
The lecture and reception are free and open to the public. Burns' visit is event is jointly sponsored by the Lecture Committee and the Rogge Fund.