Volunteer Forum - September 11, 2010
by Tom Runge • September 12, 2010

Share:
Wabash's Annual Volunteer Forum, a yearly event for alumni volunteers to catch up on the latest college news as well as news on the successes of other volunteers, drew a good group on September 11, 2010.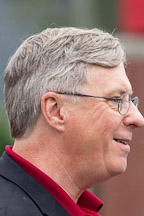 President Pat White welcomed everyone and outlined the structure of the morning's meetings. President White explained that the sessions covered the implementation of the college's vision for the future as outlined in the 2008 Strategic Plan.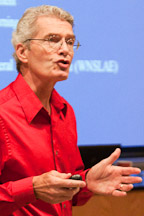 Dean of the Faculty Gary Phillips covered two topics of great importance to all the volunteers. Gary covered the changes in the size of the faculty, explaining that the economic realities the college faced and is facing meant that cuts were mandatory. A structured approach, led by the Dean and Department leaders, insured that teaching and the students curriculum desires were met. Gary also explained that the resultant size of the faculty meant that the two-course makeup of C & T (Cultures and Traditions) simply would not be supportable going forward. A new course, a single semester course, Enduring Questions (a core element of the mission statement and the liberal arts), will replace C & T starting in the fall of 2011.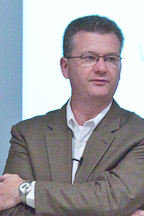 Dean for Advancement Joe Emmick gave the group a sneak preview of the Challenge of Excellence, a college effort designed to support important educational initiatives by providing the necessary funding as the college transitions to a new, leaner financial model. Joe sees this effort as an exciting opportunity for alumni to bolster the opportunities Wabash student have and will have. More details about this exciting new program will be available in the near future - the Challenge of Excellence kickoff will be held on October 29, 2010 on campus.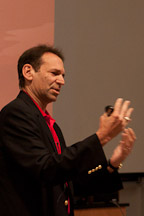 Dean of Admissions and Financial Aid Steve Klein outlined the challenges facing his team as they begin another recruiting cycle. Steve explained that 57% of the student enrollment across the country is female. That means the competition is keener than ever for talented young men – the kind of students we want at Wabash. Steve mentioned several colleges that have recently introduced football as an intercollegiate sport simply to bolster their male populations. This competition is heightened as Wabash, facing the financial realities mentioned by Gary Phillips, has had to cut spending on Financial Aid and is moving towards increasing tuition revenue as a source of operating capital. Steve reiterated the continuing important role that alumni referrals make, as a Wabash alumnus referred 40% of the Class of 2014.
D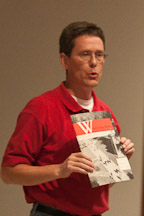 irector of Public Affairs and Marketing, and Secretary of the College, Jim Amidon '87, demonstrated the ever-changing role marketing plays in recruiting students. Jim mentioned the approach of the 1960 when students interested in the college we're asked to write in for information and an application. A big recruiting graphic in those days was a campus map! Contrast that to today where a prospective student wants highly compact information and the college has mere seconds to make it's case to a young man who might be exploring a dozen schools and hearing from 100. Jim outlined that this rapidly changing recruiting environment is a prime reason the 2008 Strategic Plan called for a comprehensive review of our marketing effort and this process is well underway.
Jon Pactor '71 provided a quick update on WABASH Day (October 9 and 10, 2010) and mentioned all of the information on Wabash Day is available on the college web site (www.wabash.edu/wabashday) including detailed information on the location and details of every regional project.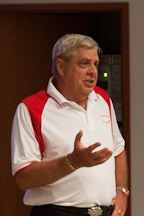 Representatives of two regional associations – Grand Rapids, Michigan and St. Louis, Missouri - provided information on how they have been able to be successful in generating solid alumni engagement. The Grand Rapids Group – represented by Jay Fisher '66, Kenyatta Brame '92, Bill Hecker '05, and Justin Vander Iest '06 – use a committee structure for their annual programming. Committee members take responsibility for upcoming events and involvement the leadership in generating good turnouts.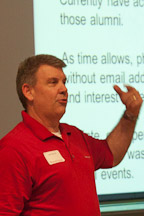 The St. Louis Group – represented by Jim Dyer '83 – relies on a similar structure but their annual programming includes traditional and non-traditional Wabash events, offering a menu of annual programming that appeals to a broad base of alumni. Regardless of the approach, two key factors were readily apparent. Communication is the key to success – email works for younger alumni and a phone call will bring out older alumni. Second, a regional association has to offer events that alumni want to attend and the pricing of events must be attractive to younger alumni.
For more photos of the Volunteer Forum, click here.