His Life in His Own Words
by Elizabeth Morton, Assistant Professor of Art • August 24, 2010

Share: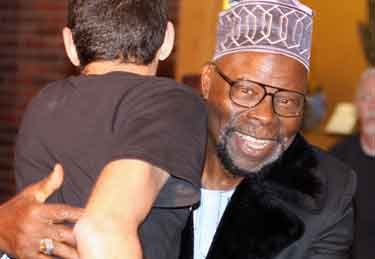 When Mike Atwell, director of the College's Eric Dean Galleries, asked me what I thought about bringing Lamidi Fakeye to campus, I was thrilled. Lamidi was one of 20th century Africa's most respected and famous artists. I had never imagined getting to meet him.

As we prepared for his visit and Mike curated an incredible show, I started thinking about documenting Lamidi's visit and how important this could be given that, at age 81, this would probably be his last visit to the United States.

I thought it would great to film him, an opportunity possible only because Visiting Assistant Professor of Art and film artist Kristen Wilkins had acquired high-definition equipment and professional filmmaking software. More importantly, she had been teaching students in how to make films and could advise us on all technical matters.

Everything came together when Joe Reese '12, who plans to attend graduate school in filmmaking, came to me to discuss directing a film documentary about Lamidi. Aaron Cantu joined our team, and so we had a small film crew.

Aaron and Joe read books about Nigeria and Lamidi and together we met the artist on at the University of Wisconsin-Madison. We followed Lamidi and filmed lectures, carving demonstrations, and interviews with experts on Lamidi's culture, the Yoruba. Then we drove Lamidi back to Wabash for a weeklong visit, where filming and interviews continued.

All-in-all Aaron and Joe filmed Lamidi and many other experts, collectors and friends for about two weeks straight. Their energy was infectious, and we all knew this was a truly worthwhile endeavor. They also probably learned more about Africa in this time than I could teach in a year.

In Madison we had enjoyed hours-long friendly conversations and cheerful meals with Lamidi. By the time we got to Wabash, we all felt like old friends. When we said our goodbyes after his residency here, Lamidi asked Joe and Aaron to come to Nigeria as honored guests and jokingly offered Joe the hand of one of his beautiful daughters and a house. Little did we know that this would be the last time we talked or that we would take the last film of him.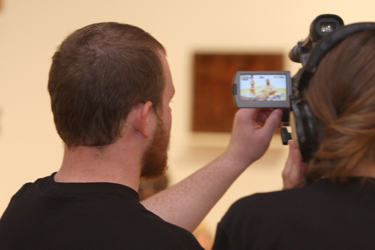 THERE ARE TIMES WHEN a student's talents and goals perfectly complement a professor's own work. A documentary would have been only a passing thought had it not been for my student Joe Reese. At the same time, when he came to Wabash, he was concerned he wouldn't be prepared for film school later. So as we continue to collaborate, aiming towards an April premiere of this documentary at the Africa Network Conference, I am once more reminded of how important these experiences beyond the classroom are.

As I write this I am gathering written sources, photographs, and musical recordings from as afar as an Irish Mission archive, the Archives of Traditional Music at Indiana University, and from collectors and friends of Lamidi. Joe is supervising other Wabash students as they go through about 28 hours of footage to begin piecing together this documentary. If all goes as planned, we should be able to release a documentary this year, produced by the Wabash College Art Department, allowing Lamidi Fakeye to explain his life's work in his own words.
Assistant Professor of Art Elizabeth Morton is the College's art historian and an expert in the art of Africa: mortone@wabash.edu
In photos: (top) Fakeye greets Aaron Cantu '10 with a hug upon the artist's arrival at Wabash. Cantu, Reese, and Professor Morton had spent the previous week filming the master wood carver in during his visit to the University of Wisconsin-Madison. (At right, above) Joe Reese '12 films Lamidi Fakeye in the College's Eric Dean Gallery: "He was so congenial; he would call us 'friends,' " Reese recalls. "We caught a lot of interpersonal moments with him when we were filming—I hope to include some of those interactions in the final cut."
Photos by Jim Amidon '87 and Steve Charles