Freshmen Embrace Community Service
by Public Affairs Staff • August 23, 2010

Share:
The Class of 2014 spread across Crawfordsville and Montgomery County Monday afternoon to meet the community, learn about the city, and serve others.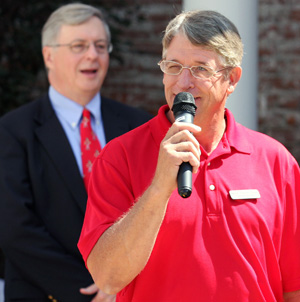 Downtown Crawfordsville was abuzz as more than 250 freshmen gathered at the fountain at Green and Main Streets for their official welcome to the city. Wabash College President Patrick White reminded the young men an important part of being a responsible citizen is to be a good member of the community.
Chris White, the president's wife and President of Crawfordsville Main Street, spoke on behalf of merchants and welcomed the young men to explore the city's retail sector. She also put a plug in for Saturday's
Taste of Montgomery County
, noting it would be a great chance for the students to learn about the town and enjoy plenty of great food.
Crawfordsville Mayor Charlie Coons (photo right) welcomed the young men to the city and encouraged them to explore. He took the opportunity to make a pitch for the freshmen to remember there are many Crawfordsville businesses which can serve their needs during four years at Wabash.
See photos
here
from the downtown welcome program. See photo albums
here
,and
here
from the day's projects.
After lunch at downtown restaurants, the young men went about their community service projects. Wabash's mission statement which includes "live humanely" as one of its tenets plays out during Monday afternoon freshman orientation each year.
While two hours may not seem like a lot to some people, having 12-15 strong young men is a tremendous asset for the agencies the Wabash guys help out.
"We depend a lot on volunteers but this is a great service," said Tamara Hemmerlein, Executive Director of the
Rotary Jail Museum
. "This is a concentrated, heavy duty couple of hours where we get a lot done that we really can't expect our regular volunteers to do."
Students at the Museum were helping move Art League equipment from the attic then tackled yard work outside.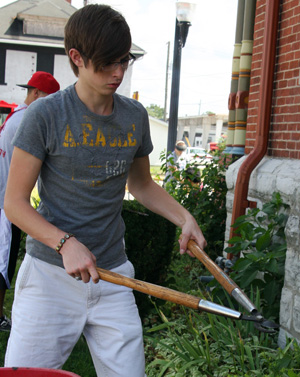 The students have been in meetings almost since their Saturday arrival so a chance to get into town was a welcome change. "Definitely, it's nice to see the town and great to be out here on a beautiful day and doing work," said Mark Shaylor '14, Gulfport, MS. (
in photo at left
) "It's good for young men to get out and do work on day like this."
Rev. John Van Nuys '83, pastor of Wabash Presbyterian Church, has a unique view of community service day. "I don't remember doing this sort of project when I was a freshman, but I think it's great," Van Nuys said. "It's good for students to realize there's a lot of cross-fertilization between the College and the community: a lot of folks from the community strengthen the college, and a lot of folks from the College strengthen the community.
"This sort of an activity is a good beginning, too, because it's important for young men to grow in both the mind and the heart — to develop their sense of responsibility to serve their fellow man and their communities."
An additional benefit is seeing more of town. "We didn't see the center of town driving in and it's beautiful," Shaylor said. "It's great to get to see all the small businesses and the diversity. Even though it's small, there are so many different components here."
Zach Kacprowicz, Ft. Wayne, agreed the camaraderie was special. "It feels good to be here, gathering with people from other states and countries in such a small community. We had no idea what we would be doing. We were willing to do anything so it really didn't matter."
The service matters to many of the agencies benefiting from the extra manpower.
"This is a godsend," said Mike Scime, Director, Youth Services Bureau. "We couldn't have done all this without help. We would have had to hire someone. The money we saved can go back into programming."
That's a good feeling too for Crawfordsville freshman Shane Brown. "It's good to be the one who knows where everything is," Brown said. "I like sharing my community with guys from other states and even other countries."
Crawfordsville is a community with a lot of history. Some of the young men were learning that for the first time. "Part of the reason I wanted to bring my group here is because of Lew Wallace's life of service," said Political Science Professor Paul Vasquez at the Lew Wallace Study. "Our tutorial is on Theodore Roosevelt who spent most of his life in public service and also had an interest in the outdoors."
Wabash men worked at projects for the Animal Welfare league, Wabash Ave Presbyterian Church, Crawfordsville Municipal Golf Course, Family Crisis Shelter, Town of Ladoga, Crawfordsville Community Garden, Vanity Theater, Old Jail Museum, Community Foundation, Williamsburg Home, Ability Services Inc., Boys & Girls Club, Ben Hur Home, Southmont High School, FISH, Montgomery County Youth Services Bureau, and the General Lew Wallace Study.