One Journey Ends, Another Begins
by Jim Amidon • August 21, 2010

Share:
When Dean of Admissions and Financial Aid Steve Klein welcomed 255 new students and their families on Freshman Saturday, he said that moment in the chapel represented the end of a long journey to find the right college.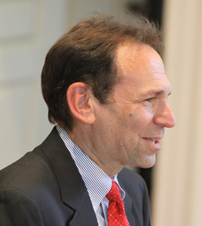 Minutes later, when President Pat White used Caleb Mills' bell to ring in the freshmen, it marked the start of an entirely new journey — the unique journey of discovery of what it means to become a Wabash man.
"As I look around the Chapel today, I am aware that you are all completing a long journey," Dean Klein (left) said. "Not in miles, but in the months and years you invested in finding the college that best suits your goals, needs, and aspirations for the future.
"It was a journey punctuated with stuffed mailboxes, web-site surfing, completing applications and financial aid forms, arranging campus visits, receiving those phone calls, and even text messages," Klein continued. "At the end of the journey, it ultimately came down to one question for you young men. Do I want to be a Wabash man?"
Mark Dewart '74 (below right), President of the National Association of Wabash Men, welcomed the new students on behalf of the alumni.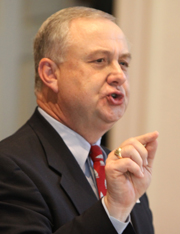 "Much is expected of you as keepers of the scarlet flame," Dewart said.
"We alumni have high expectations of you and know that you will be successful."
As he has said to each entering class since he became Wabash's 15th president, President White told the new students not to wait to seize the opportunities that await them here at the College. He reminded the freshmen that they had been selected because the College believed they had all the tools necessary to succeed — and lead — from their very first day on the Wabash campus.
"I urge you, as I urge myself, to move ahead each day with confidence — even with courage — to learn, to grow, and to imagine new possibilities for yourself, your friends, and this your College," President White said.
The President also asked the parents to be lively participants in their sons' education — to take part in the grand conversation Wabash inspires in its students.
"So parents, I ask you to trust your son, just as you have trusted his choice to come to Wabash," President White said. "Trust this College, which since 1832 has provided men with an extraordinary education for life and has led men to the enactment of their best sense of themselves.
"Remember too, and I mean this with all my heart, you have not lost a son, you have gained a college. You have gained a very great college.
"Gentlemen of the Class of 2014, I urge you to share your experience with your family," said the President. "Let them know what you are learning, how you are changing, let them be a good part of your experience here. They want to be a part of this adventure with you."
For some of those young men, sharing the experience with their families began long ago. Thirty-four men in the Class of 2014 have had some member of their family attend Wabash, and a dozen students' fathers attended the College.
Dean Klein introduced the class, generally speaking, to the standing-room-only crowd gathered in the Chapel.
He said 20 members of the class were either valedictorians or salutatorians, 46 had 4.0 or higher grade point averages, and 86 of them ranked in the top 10 percent of their high school class. Nearly 50 students were active in student government in high school and 27 were Boys State delegates.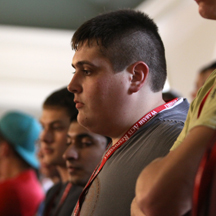 And as he does every year, Dean Klein pointed out some of the more interesting features of the class, as well. The Class of 2014 comes from 23 states and includes:
• 28 students who acted in high school and community theaters
• A sniper team leader who served in Iraq
• 19 students active in speech and debate
• A saxophone player who won the national "Battle of Bands"
• A competitive boxer and Taekwondo black belt
• A student who founded a company that patented a product that uses chemicals to cool beverages instantly
• A licensed pilot, dogsledder, and speed-skater
• 16 international students from five foreign countries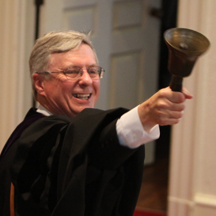 As he concluded his remarks, President White grasped the hand bell that Caleb Mills used to call the first students to class more than 175 years ago, and issued a charge to the 255 men standing in the balcony of the Chapel:
"So, Men of Wabash College, Class of 2014, if you are ready to take up this challenge; to take on the responsibility embedded in your dreams; to take on the care for your own lives and that of your brothers and all the men and women of Wabash; to set as your goal the wise, virtuous, and generous life embodied in the Gentleman's Rule and the Wabash mission to think critically, act responsibly, lead effectively, and live humanely; stand with pride so that I might continue the tradition that harks back to the first professor of Wabash College, Caleb Mills."
The President rang the bell with confidence and the sound echoed in every corner of the Chapel. The new students had — officially — become Wabash men and their parents applauded with pride and joy.