Ides Program Revels in "Wild and Fertile" Education
by Steve Charles • August 21, 2010

Share: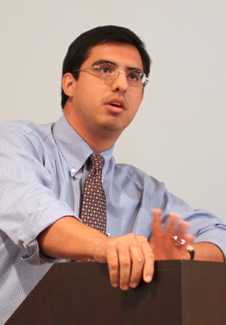 In his stirring presentation "Education After the Death of School" at Friday's 31st Annual Ides of August program, Professor Samuel Rocha warned that one telling sign of a dying school "might be when teachers hate to be students, and, consequently hate to be teachers."
If the 15 presentations by his faculty colleagues Friday are true indicators of the fervor that drives these teachers as students of their fields of scholarship and research, freshmen arriving this weekend at Wabash are about to receive what Rocha called "a wild and fertile" education. And Wabash is as alive as the high summer season that welcomes the beginning of this academic year.
The Ides program was established more than 30 years ago by Professor Tom Cole '58 to bring the faculty together to share personal and scholarly interests, and this year's talks were the most varied and interdisciplinary in recent memory. More than half of the projects discussed also included Wabash students as research assistants or collaborators, and presenters ranged from first-year professors to 25- and 30-year faculty veterans
Faculty and faculty/student presentations included a film, soon to be released internationally, by a professor and students about African woodcarver Lamidi Fakeye; a plea for a global health and research initiative in Peru; research on the manipulation of time; a National Science Foundation grant funded study in physics education that's already finding surprising and useful results; ongoing research projects in social cognition with local kindergarteners; the "hellhound of Wabash"; the power of performing music as an entre into a culture and community; an insightful look at the challenges facing education in the future; and an innovative approach to documenting a life's work in archaeology.
Learn more and see photo albums from the presentations here and here.
In photo: Visiting Owen Duston Professor of Philosophy and Teacher Education Samuel Rocha