Field Could be Completed Early Next Week
by Howard Hewitt • August 18, 2010

Share:
All indications are the Hollett Little Giant Football Field turf installation process could be completed by early next week.
Matt Sanchez, Field Turf project supervisor, said Wednesday he expects his crews to finish up early next week. The crew was working on detail work around the edges and sidelines Wednesday afternoon.
Sanchez said the large Wabash W is expected Friday. The lettering for each end zone is one of the biggest jobs yet to be completed.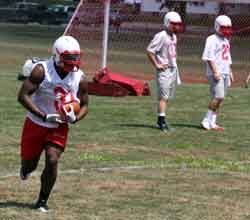 While the crews put finishing touches on the new turf, Erik Raeburn and his coaching staff are starting the construction process with the 2010 Little Giant Football team just across Jennison Street at the old baseball field.
Freshmen practice was Wednesday afternoon with upperclassmen practicing Wednesday morning.
Click here for photos of the field and a couple of football shots.
Coach Raeburn is posting each day about practice on his Twitter account. Follow coach Raeburn here: @ErikRaeburn
At left, freshmen quarterbacks and running backs were practicing handoffs. Here, Charles Smothers, a freshman from Georgia, is trotting up field.