Wabash Picked Second in 2010 NCAC Football Coaches Poll
by Brent Harris • August 4, 2010

Share:
The Wabash College football team was picked to finish second in the final 2010 North Coast Athletic Conference football standings in a preseason poll of the nine conference coaches. The annual poll was released Wednesday by the NCAC office.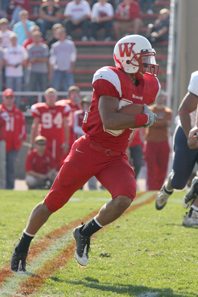 The Little Giants received 71 total points and one of the nine available first place votes. Defending conference champion Wittenberg received 79 points and eight first-place votes.
Allegheny (63 points) was tabbed to finish third, followed by Wooster (56), Ohio Wesleyan (41), Denison (32), Kenyon (30), Oberlin (19), and Hiram (14).
Wabash finished second in the final 2009 standings after winning four consecutive NCAC titles. The Little Giants were 6-1 in league play last year, losing 10-7 to Wittenberg on a last-second field goal by the Tigers. Wabash went on to finish 9-2 for the season while earning its third consecutive berth in the NCAA Division III Football Playoffs.
The Little Giants open the season on Saturday, September 11 at home against the College of Wooster.