St. Joe Valley Golf Outing Big Success
by Tom Runge • July 30, 2010

Share: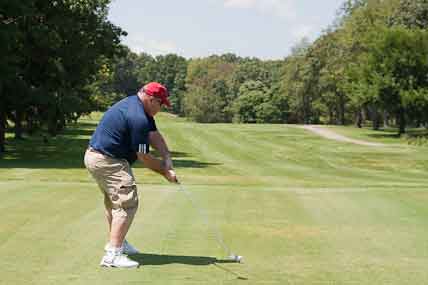 The St. Joe Valley Association of Wabash Men hosted their 10th Annual Golf Outing and it may have been the best one yet.
Golfers from all over Indiana and the Chicago area joined Wabash and DePauw alumni from Michiana for a perfect golf day - light breezes, temperature in the low 80s, and friendly pin placement.
After that, a great prime rib dinner...who could ask for anything more?
The winners - at 8 under par- were: Harry Alfrey '64, Jacen Maleck '83, Steve Hoffman '85, and John Holmes '09. Right in the hunt for low score was the DePauw team at 7 under par: Jim Kuehl D'62, Phil Eskew D'63, Phil Schuman D'06 and Brian Fenstermaker.
The secret to the St. Joe Valley's outing success is two proactive leaders - Roger Senkbeil '68 and Dick Barger '55. Roger and Dick round up a load of sponsors, a lot of raffle prizes, and make dozens of calls to get the golfers out.
It works.
Many thanks to Dick, Roger, and Roger's lovely bride Carol for all they do for such a great outing.
Photo: Tom Seroczynski '87 crushes one off the tee.
For more photos, click here.