Midweek at OLAB: Labor Deal, Tie Dye
• July 14, 2010

Share:
The 45 high school seniors attending the Opportunities to Learn About Business program at Wabash College have been drilled by a series of lectures, workshops, and decision-making games since their arrival on Sunday. By Wednesday, their fictional companies faced a strike by union employees.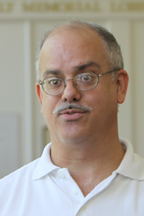 The students, who come from 11 states and Korea, have been broken up into nine teams of five students (team pictures here). Each team is competing in the overcrowded consumer electronics market, and their companies have to ride the waves of business.
From accounting exercises to split-second decisions on pricing, production, inventory, and employee wages, the "Labbies" have begun to figure out how businesses are run.
But on Wednesday, just as they were getting into a groove with "quarterly" decisions, their fictional workforce threatened an industry-wide strike. OLAB students were forced to grapple with pay increases as they relate to productivity, while real lawyers, bankers, and union labor negotiators tried to pry away as much from corporate leadership as possible.
See photographs of Wednesday's labor negotiations here.
After being prepped by Professor Humberto Barreto (above right), this year, the labor negotiators bargained for — and got — wild wage increases, day care and fitness centers, as well as improved safety conditions in the factories.
"Of course, the entire OLAB experience is a business simulation," said OLAB Director Jim Amidon. "But when you have these guys in suits show up on Wednesday morning, the students suddenly realize that all of the concepts they have learned throughout the week actually occur in real life."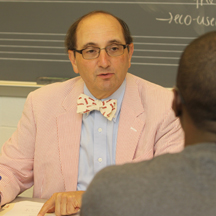 Wabash alumni Jon Pactor '71, Rick Cavanaugh '76, Greg Estell '85, and Kyle Coffey '06 were joined by Eric Lindley and Rick Dennerline to cut deals with the nine OLAB companies. Lindley is a vice president with Old National Bank and is affiliated with OLAB sponsor The Goodrich Trust. Dennerline, a Duke graduate, is a labor negotiator in real life.
"I'm indebted to Jon Pactor, who sets up the negotiators every year," said Amidon. "All of these men sacrifice a lot to spend half a day at OLAB, and our program is stronger for it.
The teams had two hours to strike a labor deal or risk a strike, which would effectively put them out of the competition. A series of seven quarterly business decisions, coupled with results of the labor negotiations (wages and productively), drive the computer simulation. The teams also develop marketing strategies and advertising campaigns that will help determine the "Best Managed Firm" award winners.
Also on hand Wednesday were several of the program's sponsors. In addition to Lindley, who represented the program's signature sponsor, The Goodrich Trust, three members of the Crawfordsville Kiwanis Club (Bud Arnold, Gloria German, and Joe O'Rourke) and Joe Kiley of the Carmel Rotary Club also sat in on the union labor negotiations.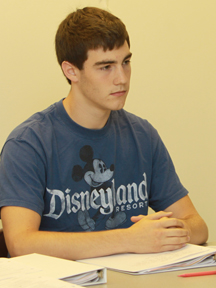 "One of the best aspects of the labor negotiations is when the sponsors sit in to see how much the students have learned in such a short period of time, and how much confidence they've gained," said Amidon.
Kiley, who is a Wabash alumnus, has linked the Carmel Rotary Club to OLAB for many years. This year there are seven students from Carmel, Indiana participating in OLAB.
"I don't know if it's me or not, but the kids in this program just seem to get smarter and smarter every year," joked Kiley after sitting in on a heated negotiation between Jon Pactor and Team Two.
"I just love this program and what it does for young people, and we're glad to support it in any way we can."
Late Wednesday, Labbies began to turn their attention from finance to marketing and advertising. Once their factories were up and running and a labor deal was in place, the students developed strategies to reach their target markets, which determined the features and benefits of their hand-held devices.
The 38th OLAB program ends with commencement ceremonies on Saturday at 2 p.m.