Wabash Hosts First Blueprint Camp
by Jim Amidon • July 9, 2010

Share:
Wabash's commitment to expanding its summer programs to high school students is on display this week as nearly 60 students — from a dozen states and Korea — are attending a pair of camps at the College.
Forty-six students are participating in the 38th annual Opportunities to Learn About Business program (OLAB) and another 13 students are taking part in the first collaborative program between Wabash and Blueprint Admissions. Click
here
to see photos from the first afternoon.
While
OLAB
remains largely unchanged over the years — and offers students a competitive immersion in all things business — the Blueprint program offers students immersion in the biology and chemistry of drug development and ethics in law.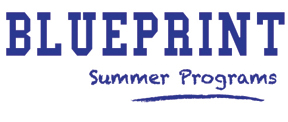 Bill Doemel, director of operations for the Center of Inquiry in the Liberal Arts, has worked with the New York-based staff of Blueprint Admissions on the launch of the new program.
"We're thrilled to be offering young men from high schools throughout the country the opportunity to experience the college classroom," said Doemel. "For one week, five young men are exploring the biology and chemistry of drug development. Eight young men are engaged in a very different course that focuses on the issues of life and death as those intersect with ethics and law."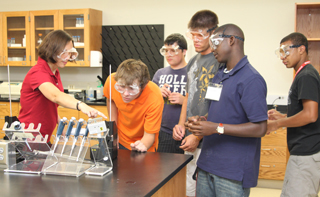 Ryan Tallman, who has worked in summer programs domestically and abroad for the last six years, is the on-campus director of the Blueprint program. "Blueprint Admissions is very excited to be working with Wabash College," said Tallman. "We think this program is an excellent way to introduce young men to the Wabash community."
For the Blueprint program, Wabash professors Ann Taylor, Scott Feller, and Walter Novak from the Chemistry Department are leading the students on an exploration of what drugs are, how they affect the body, and how they're developed.
On Wednesday, the students will travel to Eli Lilly and Company in Indianapolis. Wabash alumni Jared Fennell '93, Principal Research Scientist, and Alonzo Weems '92, Assistant General Counsel, have organized a visit to the company so students will see first hand how new drugs are discovered and developed.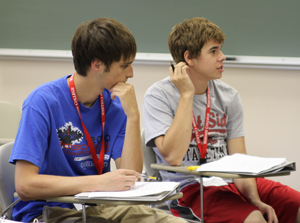 Wabash professors Scott Himsel, Cheryl Hughes, and Todd McDorman are joined by Kris McAloon, a Constitutional Law and A.P. Government teacher at Lawrence North High School in Indianapolis, and are confronting and considering some of the legal and ethical issues that arise from decisions about life and death,
Students in this track on Wednesday will meet with Judge John Baker, who is Chief Judge of the Indiana Court of Appeals. Judge Baker, in 1982, made a crucial legal decision concerning the fate of "Baby Doe," a child born with Down's Syndrome and an incomplete esophagus. Judge Baker will be talking about this case and the ethical and legal issues surrounding it.
While these academic experiences are at the core of their week on campus, these students also have time to relax, to know each other better, to know Wabash students, and to know the opportunities of the campus.
Wabash junior Andre Adeyemi is the lead counselor for the Wabash Blueprint program. He'll work largely on activities outside the classroom that will make the experience unique for the inaugural class of campers.
"I am really looking forward to getting to know the 13 lucky men who get a chance to come on campus for the program," said Adeyemi, who is Vice President of Beta Theta Pi. "Some of the interesting activities consist of visits to the Indianapolis NCAA Hall of Champions movie nights, pool parties, and getting to know Wabash and the Crawfordsville community."
Students in the Blueprint program will also receive college counseling advice from Jamie Watson of the Wabash Admissions Office.
The Blueprint program runs until July 17.
In photos: top left - Chemistry Professor Ann Taylor shows students how to use equipment Monday afternoon during a lab, bottom right - students in the ethics track engaged in a discussion.