Juniors Working with Ingram on Evolution of Grasses
by Kyle Bender 12 • June 25, 2010

Share:
Wabash juniors Patrick Garrett and Pete Guiden are getting a summer biology experience rarely available to undergraduate students.
The two are working alongside Associate Professor of Biology Amanda Ingram.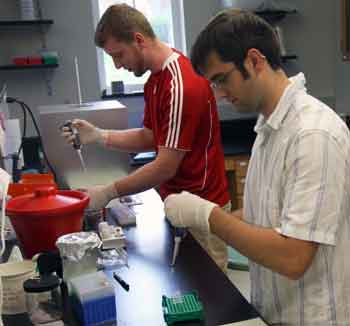 "We've been able to work elbow-to-elbow with Dr. Ingram in her research – it's unbelievable really," Garrett said. "Dr. Ingram has served as a mentor and has given me the opportunities I need to succeed with my course of study."
Ingram's work focuses on understanding the evolution of chloridoid grasses, a group of approximately 1500 largely warm-season grasses distributed in the tropics and subtropics.

"Understanding the relationships among the species in this group can help us understand better how interesting traits like inflorescence form have evolved," Ingram said. "This in turn can have important implications for the improvement of economically important cereal and turf species, potentially improving crop yield."
The study was recently deemed worthy of a four-year research grant from the National Science Foundation valued at more than $217,000. The grant allowed Ingram to hire Garrett and Guiden as summer lab assistants.
Ingram, who has taught at Wabash since 2004, began her research of chloridoid grasses ten years ago working on her Ph.D. at Cornell University.
"Pat and Pete are currently involved with several projects related to the NSF grant," she said. "The bulk of their time has been spent sequencing genes to be used as characters for trying to figure out which grass species are more closely related."
Garrett and Guiden have not taken the opportunity for granted.
"Pat and I are doing things that will be reviewed by other scientists," Guiden said. "That changed my entire perspective on the project. It's much more than the previous lab work we've done in introductory biology courses, where we would write a paper to be graded by our professor. We're actually taking the science we learned in the classroom and applying it in the real world."
Although some of the work might have seemed overwhelming at first, both students credit Ingram's guidance as the central element for their smooth transition.
"I have always enjoyed science but never believed I had the lab skills to go on and make a career out of it," Guiden said. "Dr. Ingram has been very patient, by teaching us while she is working. She gave us each a specific project that will be a part of the NSF research study and then taught us all the lab skills we will need to accomplish our goals."
Garrett said the independent lab work and the assignments illustrate the Wabash College mission statement. "This is critical thinking at its best. She has given us the tools to succeed but it is essentially up to us to think independently to meet our goals."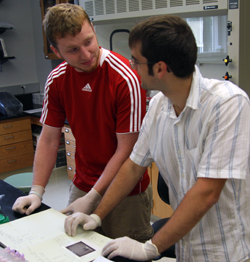 Ingram is working cooperatively on the research project with UC-Claremont Graduate University Associate Professor Travis Columbus. Columbus is a research scientist at the Rancho Santa Ana Botanic Gardens in Claremont, California. Garrett and Guiden will travel there for ten days of study in August, funded completely by the NSF grant.
"Rancho Santa Ana has a unique summer program that involves spending two weeks at the botanical garden, learning about methods in plant systematics, ranging from DNA sequencing to electron microscopy, with additional time in the field exploring the California flora," Ingram said.
Garrett and Guiden will work alongside students from across the country. The trip will allow them to observe the differences between Wabash's liberal arts curriculum and the primarily research-based Claremont Graduate School curriculum.
"Before I came to Wabash, I had never traveled," Garrett said. "Last year, I was able to participate in the Summer Study in Ecuador Program, which was my first plane ride. Now I get to travel to California for ten days, all expenses paid doing what I love. It's remarkable."