Impromptu Organist Cherishes the Moment
by Steve Charles • June 9, 2010

Share: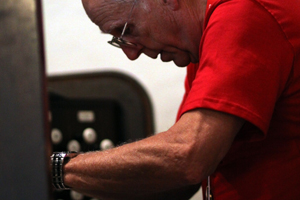 It was 3:10 in the afternoon Saturday, the memorial service was to have started 10 minutes earlier, and the heat and humidity had members of the Class of 1960 fanning themselves like worshippers at a midsummer tent meeting.
They were waiting for the organist College officials had promised to provide. But with no musician in sight and unable to hold up the service and their sweltering classmates any longer, Class Agent Charlie Quillin and reunion chair Dick Kite huddled at the front of the Chapel and wondered aloud, "Is there anyone in our class who can play this thing?"
Unbeknownst to Quillin, he was about to give Noblesville, IN retired dentist Alan White '60 the opportunity he had dreamed of when he was a student at Wabash.
"I used to sneak into the Chapel when I was a student and play this organ," White said following his "debut" last Saturday as the Wabash College organist. "I'd wanted to accompany the Glee Club then, but they already had an accompanist."
So last Saturday when one of his classmates who knew of his talent pointed him out, White volunteered.
As he began to play the opening hymn, his classmates realized they were in the hands of a pro. He led them confidently through each verse of "O God Our Help in Ages Past" and "Alma Mater," then capped off his performance with a energetic postlude that seemed to transport him to the enthusiasm of his student days.
His grateful fellow Wabash men and their families applauded, and White couldn't hold back a smile, though he seemed a little shaken by it all.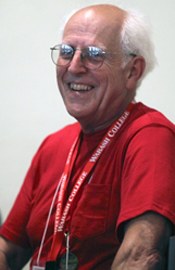 "It's overwhelming," he said as he finished the piece, stood up, and revealed to those gathered around him the details of his clandestine playing of the Chapel organ during his student days.
And while Saturday was his first stint as the Chapel organist, White is no stranger to performing. The former organist for St. Christopher's Episcopal Church in Carmel, IN, who has performed concerts with the Carmel Symphony Orchestra as well as many solo piano and organ concerts, White had studied music for 13 years before he became a freshman at Wabash and continued his studies for a master's degree in piano performance at Butler University.
Still, Saturday's performance had special significance.
"It took me back to those times I would sneak in here to play, the hours I spent here," he said. "To have the first time I'd played this organ for an audience in this place be in front of my class, for this service, is overwhelming. I cherished every minute of it."
The reunion organizers later discovered that the organist who was supposed have accompanied the class had never been contacted—a slip-up on the College's part that made for one of the most memorable moments of Big Bash 2010.
"It's serendipitous," reunion chair Dick Kite said. Classmate Charlie Quillin agreed, adding that "providence once again had intervened" at his alma mater: "I love the way things always seem to work out at Wabash."
White summed it up: "I feel badly that [the scheduled organist] didn't get to play—I know him and he's very good. But I'm also grateful."