Bell Stirs Emotions at Memorial Service
by Steve Charles • June 9, 2010

Share: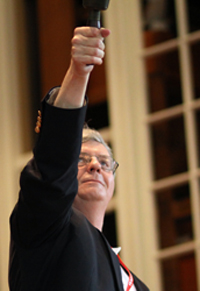 On a sweltering hot Saturday afternoon in the College's Pioneer Chapel, President Pat White rang Caleb Mills' bell—the bell with which Mills, the College's first faculty member, called the first class of Wabash students to order in 1833 and whose ringing has become the traditional way Wabash presidents welcome incoming classes on Freshman Saturday and bless graduating seniors at Commencement.
(See a photo album from the service here.)
But last Saturday's "ringing out" wasn't for this year's seniors or next year's freshman, but in memory of men from the Class of 1960 who had died before their 50th reunion.
"We wanted a memorial service not to mourn, but to celebrate their lives," said Class of 1960 Class Agent Charlie Quillin.
So the class and their families gathered in the Chapel June 5, the Saturday of this year's Big Bash Reunion, sang "O God Our Help in Ages Past," and Rev. Paul Melzer '60 offered a short prayer, read from Ecclesiasticus, and led the reading of Psalm 34: 1-10, 22. Former Class Agents Jim Price '60 and Fred Scott '60 stood at the podium and took turns reading the names of the 36 men who had died since the class had sat in this very place on Commencement Day years ago.
Then President White rang Caleb Mills' bell.
"It gave me chills," said Reunion Chair Dick Kite '60. "You have to remember, we'd not heard that bell before."
While the bell has been around Wabash for 177 years, it was lost for decades until Professor Peteris Silins re-discovered it in a closet in Yandes Hall in 1971, and Thad Seymour H'78 became the first Wabash President to "ring out" a Wabash class.
Almost 40 years later, President White became the first Wabash president to use the bell during a class reunion's memorial service.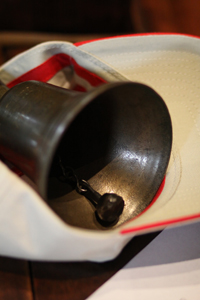 "Gentleman, if you will, stand with me and join me in silence as I take up the bell of Caleb Mills and we together ring out our fallen brothers of the Class of 1960," President White said from the Chapel podium. "Men whom we remember young and strong and full of life, men who, like our best imaginations of ourselves, remain always young, strong, full of life, loving and true, good and lively; men who will always be in our hearts and who remain with us forever and always, our brothers and brave Wabash men."
The President faced first to the north, then to the east, then to the south wall of the Chapel, swinging the bell overhead as tones rose from it like incense.
"To hear that bell consolidated every emotion I was feeling in the Chapel," Kite said. "Three fraternity brothers of mine were on that list they read. And Pat rang the bell so vigorously—I thought he might ring it more mournfully, that it could be maudlin, but it was lively the way he rang it—he captured what we'd imagined when we wanted a celebration of our classmates."
Phil Vincent '60 admitted it was difficult to hear the names of his friends read aloud (Phil had six fraternity brothers among the dead), but said he was moved to hear them spoken again in a place so central their friendship.
The memorial service ended with the singing of "Alma Mater", but the moment that seemed to evoke the strongest emotion among the Class of 1960 was the ringing out of their classmates. As President White said during the ceremony, "It is in the voice of this bell resonating in the hallowed space of the Chapel that we hear our fondest memories and our dreams ring out again."