Class of '60 Honored at Big Bash Banquet
by Jim Amidon • June 5, 2010

Share:
Referring to the men of the Class of 1960 as his brothers, President Pat White presented 50th reunion medallions to each member of the class who returned for the Big Bash Reunion Weekend on Friday night. The class started out with 113 members back in 1956 and nearly half — 54 — returned for the 50th reunion, a remarkable accomplishment for Reunion Chair Dick Kite and Class Agent Charlie Quillin.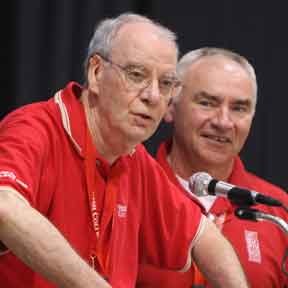 Friday's Big Bash Banquet was attended by about 500 alumni and their guests, and included students from the Class of 2012 all the way back to Paul Honan from the Class of 1943. While the event is truly one for all in the Wabash family, the focus is keenly placed on the 50th reunion class.
There were plenty of highlights to the evening — from the President awarding 50th reunion medallions to the Class of 1960 to the presentation of the 50th reunion Class Gift, which was a check for $3.7 million.
Just before the President shook the hand of each member of the Class of 1960, Director of Alumni and Parent Relations Tom Runge '71 addressed the class.
"The Wabash family may be small, but I want you to know how very proud we are of your accomplishments and I thank you for returning to your alma mater," Runge said.
Kite was the first to receive his medallion from the President, followed by Quillin, who then introduced each member of the class back for the reunion.
"Many of you come back to a place much different in buildings and names," President White said to the Class of 1960. "And though your own faces may change every so slightly, there is also so much that remains in your core that is truly Wabash."
Following the awarding of the medallions, John Bachmann '60, Chairman of the Reunion Gift Committee, gave President White an oversized check for $3.7 million, which far surpasses the goal of $2.2 set for the class.
A slightly shocked President White said in response, "Every gift to Wabash is a gift of an education for the next generation of Wabash men."
A tradition at every Big Bash Banquet is embarrassing a few folks who celebrate milestones. Kyle and Betsy Carr '85 were celebrating their 17th wedding anniversary at the Bash, and Jacob Pactor, son of Peter Pactor '65, celebrated his 13th birthday.
At the end, though, the evening was about those 54 men from the Class of 1960 and the families who returned to Wabash with them to celebrate their golden anniversary of commencement from Wabash.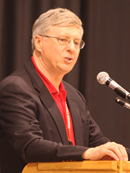 "Each of you realize that how ever far you've come or how many years have passed, you are tonight young again. You are again Wabash men… You realize that Wabash is with you wherever you go.
"The College drew out of you your greatest dreams and your greatest imagination of yourselves… When you live out the Wabash mission of educating men to think critically, act responsibly, lead effectively, and live humanely, Wabash sings through your life. And what a beautiful song it is."