Two More All-Americans for Wabash
by Jim Amidon • June 1, 2010

Share:
One Little Giant track athlete finished his Wabash career on a high note, while another budding sophomore showed his enormous potential at the 2010 NCAA Division III National Championships.
Senior captain Emmanuel Aouad put an exclamation point on his career by finishing seventh in the 110-meter high hurdles to become a two-time All-American.
Meanwhile, sophomore Kevin McCarthy turned in a remarkable comeback effort to finish fifth in the 1,500-meter run. It was McCarthy's second All-America award.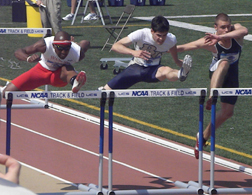 "I was very impressed with the way Eman closed out his Wabash career," said Coach Clyde Morgan. "He smashed his school record in the prelims (14.24 seconds) and came back the next day and ran the second fastest time in school history. What a way to go out on top, as an All American. I am very proud of him and he will be hard to replace."
Aouad was third at the NCAA Indoor National Championships earlier this season. He owns Wabash school records in the 110-meter high hurdles both indoors and outdoors.
McCarthy's story is remarkable. Midway through the 2010 outdoor track and field campaign, his season was on the brink. After finishing sixth in the indoor 800-meter run at the NCAA Division III Indoor National Championships, the All-American was suffering from injuries that appeared at the time to be season ending.
McCarthy, a Dean's List, pre-med student, took two weeks off and didn't compete for about a month. He had little shot of returning to form in the 800, which is essentially a two-minute sprint. So the tall, lanky distance runner focused on the 1,500 meters when he returned to competition at the North Coast Athletic Conference championships.
McCarthy clocked a time of 4:01.01 to finish second — his first competition in a month and five weeks after he ran his first outdoor 1,500 at the Cederville Open.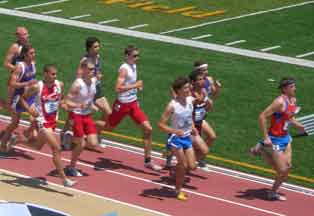 At last weekend's Outdoor Nationals, McCarthy continued his rapid climb among the elite runners in Division III by finishing fifth in 3:52.02. He set the Wabash school record of 3:51.65 in qualifying for nationals.
"Kevin stuck to the plan, ran with confidence, and got it done," said Coach Morgan. "Every athlete has a turning point in his career when they really start to believe. I think this race was his. I truly believe — and more importantly — he believes that he can win a national championship. If he trains hard this summer and we continue to be smart with him, there is no doubt in my mind that he can do it."
McCarthy, who became the first runner in Wabash history to qualify for nationals in cross country, indoor track, and outdoor track in the same season, impressed his distance running coach, too.
"With Kevin, we had one theme all weekend —believe," said Coach Roger Busch. "Right before the finals I told him to believe in me and Coach Morgan and the race plan we wanted him to try. But most importantly he needed to believe in himself. Mission accomplished!
"Kevin runs with a great deal of passion and heart. That is the part of a person that you just can't coach!"
The national meet was a great learning experience for four other Wabash underclassmen. Junior Wes Chamblee was out in front of his qualifying heat when he tumbled after clearing the final hurdle.
Chamblee rebounded nicely to anchor Wabash's 4x400 relay team, which had the 15th best qualifying time heading into nationals, but finished with the 11th fastest time in the national preliminary heats. The time of 3:14.94 set yet another Wabash record.
"I was very proud of our 4x400 relay," Coach Morgan added. "All of them being first-time qualifiers responded well.
"They were in a fast heat and ran well breaking the school record again! This was one of the fastest 4x400 relays that I have seen in a long time. Garrett Bonk got us out well; John Haley finished strong, like always; Jake Zielinski ran the race of his life; and Chamblee gave us an exciting finish down the stretch. They left everything they had on the track, I couldn't ask for anything more."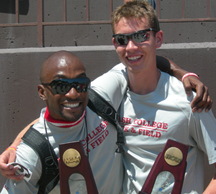 Wabash Results from NCAA Division III
Track and Field National Championships
1500-Meter Run — FINALS
5th — Kevin McCarthy '12 — 3:52.02
110-Meter Hurdles — FINALS
7th — Emmanuel Aouad '10 — 14.44
400-Meter Hurdles — HEAT TWO
Wesley Chamblee '11 — 55.37
4x400-Meter Relay — HEAT THREE
Bonk, Haley, Zielinski, Chamblee — 3:14.94 (11th in prelims)