McCarthy, Aouad Two-Time All-Americans
by Jim Amidon • May 28, 2010

Share:
Kevin McCarthy and Emanuel Aouad are now two-time All-Americans. Both duplicated their indoor accomplishments of earlier this year by running in the finals of the outdoor nationals Saturday.
Sophomore McCarthy qualified for the 1500 meter finals in 3.52.64. He ran 3.52.02 for a fifth place finish and All-American honors.
Aouad '10 bettered the previous Division III season-best time with a 14.24 to qualify for the finals. He ran just off that mark Saturday at 14.44 to finish seventh and All-American status.
Five Wabash underclassmen qualified for the national field and the coaches elected to take freshman indoor All-American Jake Waterman as an alternate. Only senior Emmanuel Aouad had "been there and done that" after making the national cut a year ago.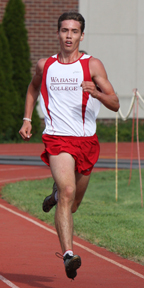 Kevin McCarthy, a low-seeded runner in the 1,500 meters, ran what Busch described as a "tough race" less than a month removed from an injury that threatened his entire outdoor season. McCarthy's time of 3:52.64 was just enough to get him into Saturday's finals — a field of a dozen runners.
McCarthy qualified for nationals with a time of 3:51.65, which was a new school record.
McCarthy finished sixth in the nation in the indoor 800 meters to become a sophomore All-American. He was the first runner in Wabash history to qualify for the national championships in cross country, indoor track, and outdoor track — all in the same season.
Junior Wes Chamblee surely endured his own Wide World of Sports "agony of defeat" moment. The talented two-sport athlete had the third fastest national qualifying time in the 400-meter intermediate hurdles going in to Thursday's preliminary heat. He was nearing the finish line in first place of his heat when he tumbled after clearing the last hurdle of the race.
Chamblee picked himself up and finished the race, but failed to reach the finals.
Chamblee later returned to the track to anchor Wabash's 4x400 relay team. The quartet, which included sophomores Garrett Bonk and Jake Zielinski and freshman John Haley, had hoped to "stay loose and see what happens" after ranking 15th in seed times.
They stayed loose enough to break their own school record, finishing in a time of 3:14.95, but they finished 11th of 16 teams and did not qualify for the finals.
All four men return for next season, along with freshman Waterman, who was the squad's alternate.