2010: Brotherhood & Conversation
by Jim Amidon • May 16, 2010

Share:
Wabash President Patrick E. White shook the hands Sunday of the College's graduating seniors in the Class of 2010, reaching out to each young man as a brother and classmate. Amid overcast skies that forced the ceremony into Chadwick Court, the President rang out the class of men he entered with four years ago.
"Men of the Class of 2010, four years ago you were the first class I rang in as president of Wabash," White said. "From that time on we have shared a special bond and you will always remain dear in my heart. We have learned together, laughed and cried together. We have cheered and sung Old Wabash countless times together. We have walked the path of the last four years as brothers and friends. Sometimes, like brothers, we have disagreed, sometimes we have struggled to listen carefully to one another, but we have always come together in our love and loyalty for Wabash and in our trust in one another."
Two hundred seven men received sheepskin diplomas from the president in the 172nd Commencement Ceremony. Each had his name read by Associate Dean Julie Olsen, was hooded by Dean of the College Gary Phillips, and strode confidently across the stage to the delight of more than 2,000 in attendance. See pictures from the ceremony and celebration
here.
Click
here
to see all photos from Commencement weekend.
A video of the entire ceremony is now on the Wabash College YouTube page, just click
here
.
DVDs of the Commencement Ceremony and related activities will be available in a few weeks through the Wabash College Bookstore.
In his brief remarks, President White thanked the students for being good learners — and good teachers. "I thank you for all you have taught me," he said. "As I finish my senior year at Wabash, I thank you for your leadership, your commitment to the College, and your teaching of one another and all of the underclassmen. You have served as mentors and brothers to those younger — and older — than you at Wabash."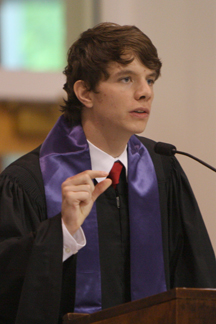 Elliott, who majored in political science and also appeared in 11 main-stage theater productions, talked about the isolation he once felt at Wabash. He said that through preconceived ideas and assumptions, "I closed myself off, isolated myself — began to view my classmates in a cynical and negative light."
He found himself escaping in the roles he played on stage. "I've been lucky enough to have the opportunity to play a great diversity of roles," Elliott said. "Naturally, each of these characters came from a part of me — but I've never stood before you as a whole. I feel very vulnerable."
He said that he had hoped to find a better word than "brothers" to describe his bond with his classmates, but came to discover that, "Brothers is the word that encapsulates the relationship that I had lost with my classmates."
Over time and through his experiences in a leading role in the production of The Pillowman, Elliott learned much about himself.
"I learned not to plan, but to truly react on stage, in real time; not to seek control, but controlled chaos. Through this role, I was becoming more than just a scared kid escaping to the theatre — I was an artist. I made myself vulnerable then, just as I do now."
Elliott concluded by talking about experiences he had with two Wabash alumni, Stephen Pavy '81 and Michael Abbott '85, who through their interactions with him, taught him much about Wabash brotherhood.
"Brothers of the Class of 2010, I challenge you to maintain this atmosphere of brotherhood — to admire one another, open up to each other, and challenge each other to a higher standard … Go out and become more than just Wabash brothers; take these precepts of humanness to every setting."
O'Donnell, who majored in chemistry and is bound for medical school, spoke about an imaginary feast he would like to share with Michael Jordan, Jesus, Galileo, Pepe (the King Prawn of the Muppets), and street magician David Blaine.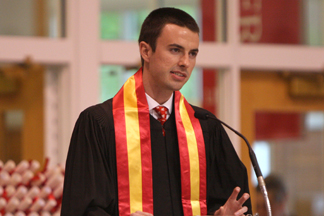 "Imagine the conversation that Galileo and Jesus would have about the Church, the dialogue between MJ, Pepe, and David," O'Donnell said. "The dynamics at the table could not be more different, more interesting: athletics, religion, science, marine biology, entertainment. Now imagine the mall as a table, the grass as a soft, green, velvety tablecloth, and the trees as tall, graceful goblets, filled with emerald ambrosia. Our beautiful table is set. The guests, however, are not MJ, Jesus, Galileo, Pepe, and David, but these cherished academic buildings. They have arrived and are seated.
"See how intimately our academic buildings nestle close to each other. You can almost hear their whispering in the breezes of a beautiful spring day. The very fact that our constructed guests are dining together, that we are gathered with them today — with all our varied experiences, educations, growing wisdom, and interests—makes life colorful, interesting, and rewarding.
"As we sit today at our imaginary table upon the Wabash green, surrounded by our guests, we who have studied and struggled at Wabash these past four years become these structures' very voices, their testimonies to truth. And though we have entered and exited them as students for the last time, we will never entirely leave them. They — and we — will, for the rest of our lives, be parts of the Grand Conversation of which President White has spoken on many occasions.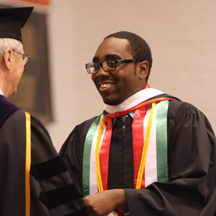 "That Conversation will not end when the Class of 2010 soon walks across the stage. It will carry on in our goals, our lives, our communication. That is, and always will be, the way the liberal arts finds its voice. Not in a fixed moment or in a static, complete idea, but in an ongoing, never-ending conversation. It is a Conversation that ebbs and flows based upon those willing to engage, seek, and wrestle with profound questions. It lies not in the particular subject matter mastered or experienced — for no one learns it all.
"We offer hope to each other, whether near or afar, through our conversations, through our engaging with others in this Grand Conversation that is the liberal arts," O'Donnell concluded.
Wabash alumnus, Reverend Terry Harter '69 of the First United Methodist Church in Champaign, Illinois, gave the
Baccalaureate
Sermon earlier in the day. He spoke about what a difficult "real world" the young men will enter, one filled with anger, distrust, and anxiety. He offered the men and their families a challenge to focus on creativity and renewal.
"What happens next is anybody's guess, and depends on how you pick among the spirits that fill our world," Reverend Harter said. "Some of the spirits are divine — like tongues of fire — and others are just intoxicants: lesser gods whose adoration will indeed finally destroy us. And the great challenge for you will be to distinguish between the two: to support the divine spirits of creativity and renewal, and to limit the intoxicating ones."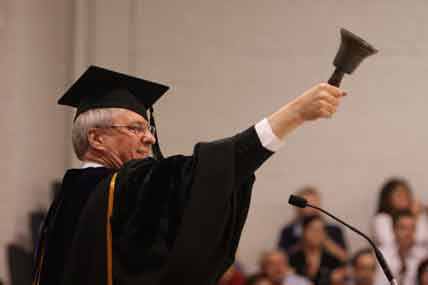 Before he rang out the Class of 2010, President White asked the graduates to begin a new tradition.
"As we have walked the paths of Wabash for the last four years, I ask you today to take a few more steps with me. At Wabash we love our traditions. One of those traditions is that Wabash students do not walk under the Senior Arch, the arch between Goodrich and Sparks, until graduation…
"Though I have not graduated and have not earned the honor you have just received, I ask you to allow me to lead you through the arch as we finish four years at Wabash out of a sign of my gratitude to you for all that you have done for Wabash and all that you will continue to mean."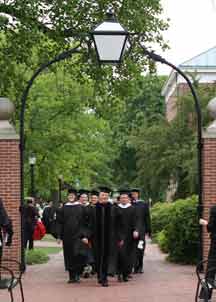 After using the same bell Caleb Mills used to call the first class to Wabash, President White rang out the Class of 2010. And in capping his own "senior year," the President led his Wabash brothers on a march through the Senior Arch. See
video
of the new tradition below!
With that, the men of the Class of 2010 commenced with the teaching and learning that awaits them over the rest of their lives.
In the photos:
Spencer Elliott delivers his Commencement Address.
Jon O'Donnell speaks to his classmates.
Daniel King receives his diploma.
President White rings out his brothers.
President White leads the class through the Senior Arch.