More Track Records Fall For Little Giants
by Brent Harris • May 15, 2010

Share:
Three more school records fell this week as members of the Wabash track and field team put in final efforts to qualify for the upcoming NCAA Division III National Meet. Wes Chamblee set a new mark in the 400-meter hurdles, while the 1600-meter relay team shattered the old Wabash mark. Sophomore Kevin McCarthy topped his own one-week-old record in the 1500-meters, as well.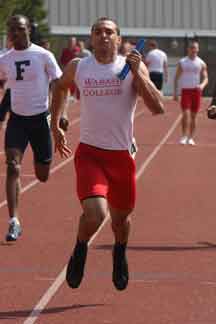 Chamblee (right) won the 400-meter hurdles at the Dr. Keeler Track and Field Invitational held Thursday and Friday at North Central College. Chamblee cruised to victory with a time of 52.04, a full second ahead of the rest of the field. His time was also quicker than the old Wabash school record of 52.45 set by Garrett Tallman '87 in 1986.
Chamblee's time also hit the automatic qualifying mark for the NCAA Nationals, guaranteeing him a spot in the field.
Jake Zielinski, John Haley, Garett Bonk, and Chamblee combined to win the 1600-meter relay with a time of 3:15.07, posting their fastest time of the year by nearly one full second. The time also bettered the former Wabash record of 3:15.70 set during the 2006 outdoor season.
McCarthy set a new Wabash record in the 1500-meters last week at the Billy Hayes Invitational at IU with a time of 3:55.18. Friday at North Central he stormed to second place with time of 3:51.65, shattering the old mark while nearly hitting the automatic qualifying time of 3:50.60.
The national championship meet will take place May 27-29 at Tressel Field on the campus of Baldwin-Wallace College.
Game Stats