Puzzlemaster Shortz to Challenge Wabash
• May 7, 2010

Share:
President Pat White and his wife Chris invite the public to a "Puzzling Evening" with Crawfordsville native Will Shortz, the New York Times Crossword Editor.
Mr. Shortz will be receiving an honorary degree from Wabash College at the 172nd Commencement Ceremonies on Sunday, May 16.
On the night before Wabash's graduation, President and Mrs. White will host an event to honor Mr. Shortz. National Public Radio's Weekend Edition Sunday "Puzzlemaster" will talk a bit about his life since leaving Indiana in 1974, take questions, and then involve the audience in a series of participatory word games.
The event is open to the public, and will be held at 7:30 p.m. on Saturday, May 15 in Ball Theater of the Fine Arts Center.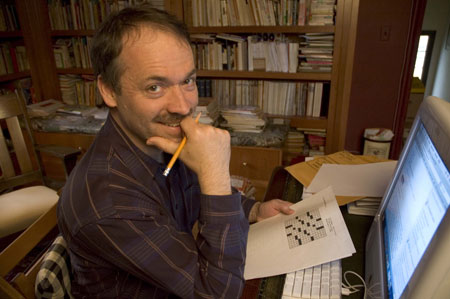 Mr. Shortz was born in Crawfordsville in 1952. He graduated from Indiana University in 1974 and remains the only person in the world to hold a college degree in Enigmatology — the study of puzzles — a major he designed himself.
He earned a law degree from the University of Virginia and has spent his entire career creating and solving puzzles.
In 1978, at the age of 25, he founded the American Crossword Puzzle Tournament, which he still directs. He is also the founder and past-director of the World Puzzle Championship (about which a documentary film, Wordplay, was made).
Mr. Shortz also co-founded the World Puzzle Federation and served for five years as its chairman. He has directed the Sudoku National Championship each year since 2007.
He has served as National Public Radio's Weekend Edition Sunday "Puzzlemaster" since 1987, and he has been the Crossword Editor for The New York Times since 1993. He has written or edited more than 400 puzzle books.