Kopff Says Classical Education Defined the Country
by Howard Hewitt • April 22, 2010

Share:
Dr. Christian Kopff reiterated what many attending his lecture Thursday already knew. Our founding fathers and many of the most accomplished citizens in our history benefited from a Classics education.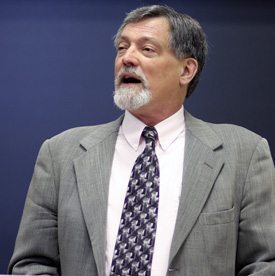 Dr. Christian Kopff, a professor at the University of Colorado since 1973, presented a talk, "Why does the Classics Matter?" Kopff attended Haverford College, Pa., and the University of North Carolina.
Approximately 30 students and nearly 10 faculty members crowded Center 216 to hear his remarks.
The first half of his talk was centered on sharing how this country's founding fathers all had a classical education and were strong believers in classical education. "America's Founders were traditionalists," he said. Kopff talked about the writing of our founding fathers and how their words and intent were routed in the classics.
He also drew interesting comparisons between the decline in high school Latin enrollment and a two-decade drop in verbal SAT scores from the early 1960s to the early 1980s.
Kopf talked about the trend of emphasizing to students the need to think critically. He said his conversation with college professors on the topic usually ends the same. 'It's hard to teach students to improve their critical thinking and writing because I'm spending so much time correcting their grammar,' he shared as the common response.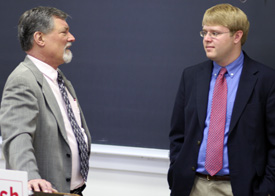 He repeatedly came back to a nearly half million student drop in high school Latin enrollment as the comparison standard to problems in education.
"It's hard to improve your grammar in your own language," he contended. "That where Latin has been so valuable for generations."
He suggested some of the most successful people in history and the world today benefited from a classical education. "We need to sober up and listen to the wisdom of the past," he said.
Kopff's talk was presented by the Wabash Conservative Union.
In photos: Dr. Kopff, lower left the professor with Adam Brasich of the Conservative Union.