Grossnickle Tabbed for Philanthropy Award
• April 22, 2010

Share:
The Center on Philanthropy at Indiana University has honored philanthropic leader and Wabash Trustee Ted R. Grossnickle '73, CFRE, with the Spirit of Philanthropy Award. The award was presented Thursday at the annual IUPUI Spirit of Philanthropy Luncheon and Awards Ceremony.
The Spirit of Philanthropy awards recognize individuals, corporations, and foundations that have supported and contributed to university programs and departments through their gifts and voluntary service.
In 2005, Grossnickle was elected to by the National Association of Wabash Men to serve as an Alumni Trustee on the Wabash College Board of Trustees, and was re-elected to a second term in 2009. He chairs the Board's Admissions and Advancement Committee and is a member of the Executive Committee and Committee on Trusteeship.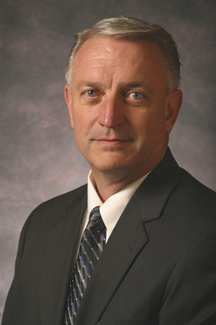 "Ted Grossnickle models for us all a Wabash man who joins seamlessly the mission goals of leading effectively and living humanely through critical thinking and responsible action," said Wabash President Patrick E. White. " As an active member of the Wabash College Board of Trustees, as counsel to numerous colleges, universities, and nonprofit organizations, and as an active and committed volunteer, Ted, through his wisdom, passion, and drive, makes an enormous impact by helping leaders make their institutions stronger and effect positive change in the larger world."
Grossnickle served as counsel on Wabash's Campaign for Leadership, a capital campaign that raised for Wabash a record $136 million.
He has also been a key volunteer and supporter for the IUPUI Center on Philanthropy for more than a decade.
"Ted's visionary volunteer leadership plays an important role in helping to shape the Center on Philanthropy's future," said Patrick M. Rooney, executive director of the Center. "We are fortunate that he chooses to share his time, expertise and good counsel with us."
Grossnickle currently serves as chair-elect of the Center's board of visitors and leads its endowment campaign committee. A donor and member of the Center's Sage Society, Grossnickle also chaired the Center's campaign readiness task force.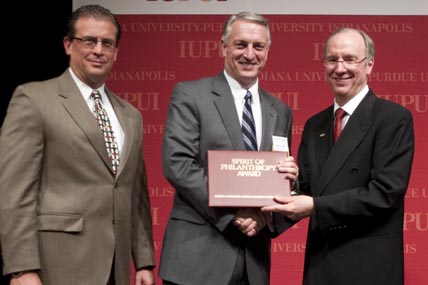 "Ted is intensely devoted to helping others make a difference," Rooney said. "He encourages the Center and everyone involved in philanthropy to set ever-higher aspirations for philanthropy's impact in the world."
A highly respected advisor in the nonprofit sector, Grossnickle is senior managing consultant and co-founder of Johnson, Grossnickle and Associates, a consulting firm serving nonprofit organizations. Before starting Johnson, Grossnickle and Associates in 1994, Grossnickle was vice president of development and public affairs at Franklin College for 10 years, and was Franklin's acting president in 1993. He previously served Northern Illinois University in several senior executive roles, including director of corporate relations in the office of the president, executive director of the alumni association, and director of special giving. He also has held positions at Wabash College and Procter & Gamble.
Grossnickle's consulting expertise has advanced the missions of institutions such as Anderson University, Illinois Wesleyan University, Conner Prairie and many others. As an author, speaker and teacher, he makes innumerable contributions to philanthropy and the nonprofit sector, and he was named Fundraising Executive of the Year in 1994 by the Association of Fundraising Professionals-Indiana Chapter. He is chairman of Achieve, LLC, and serves on the boards of several nonprofit organizations, including Wabash College and Garrett Seminary. Grossnickle earned a baccalaureate degree from Wabash College and a master's degree from Northern Illinois University.
The Center on Philanthropy at Indiana University, a part of the IU School of Liberal Arts at IUPUI, is a leading academic center dedicated to increasing the understanding of philanthropy and improving its practice worldwide through research, teaching, training and public affairs programs in philanthropy, fundraising, and management of nonprofit organizations.