Knox Breaks Pole Vault Record at Rose
by Brent Harris • April 20, 2010

Share:
Friday evening Wabash College freshman Matt Knox sailed over the pole vault standard at the Rose-Hulman Twilight Invitational and into the Wabash track and field record book. Knox cleared 15 feet, 2-1/4 inches to break the 23-year-old school record in the pole vault of 15 feet set by Craig Lockerbie '90 in 1987.
There was no celebration because almost no one realized the record had been broken.
"I really didn't feel anything special," Knox said Monday at practice. "I knew I won the meet with that vault, so I felt great about that. I was more eager to get up to the next height. Lately we've been trying to work toward qualifying for the NCAA Division III Nationals. When I first cleared the height I wasn't thinking, 'I just broke the Wabash record.' I was thinking, 'OK, good I've got a nice height down, now let's go up to the national qualifying height.'"
His pole vault coach, Horace Turner shared those thoughts
"I really didn't realize he broke the record," Turner said. "I'm focused on getting him to break 16 feet. Matt can compete at the national level. If he doesn't make it as a freshman, I think he will definitely make it next year. He should be there, especially indoors. He needs to continue developing his strength and speed. He has the desire."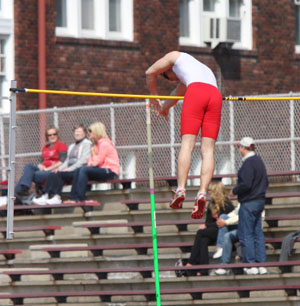 Knox has been at this height before Friday's accomplishment. A graduate of Franklin Central High School in Indianapolis, he cleared 15 feet, 1 inch as a senior to finish second at the Boy's Track and Field Regional last year while qualifying for the state championship meet. Now Knox is ready to move on and compete against the best pole vaulters at the NCAA Division III level.
"I've always wanted to jump in nationals," Knox said. "In high school you're competing against the best vaulters in Indiana. Now I get to compete against the best vaulters in the country. I can go online and see how I'm doing compared to everyone else in the nation. It's quite an accomplishment to get on the national qualifying list."
While Knox showed great success in high school, he came to Wabash in the fall and immediately started training to prepare for the indoor track season.
"We were encouraged in September to begin lifting and running on our own or in a group," Knox said. "Starting that early was a big change. In high school we didn't start track until February. Another difference is the facilities. I've never had access to an indoor track facility to practice in the winter. Having indoor meets in January helped me get ready for the outdoor season. I was in wrestling in high school and never participated in indoor track. All of that has changed my entire high school-to-college vaulting experience."
Turner credits that off-season work and the leadership shown by sophomore vaulter Sam Glowinski in getting the group prepared for this spring.
"Matt had knee surgery in high school, so to rebound and be able to reach 15 feet your first year vaulting in college is quite an accomplishment," Turner said. "I think he'll be able to go much higher as he continues to strengthen that knee. He's a powerful young man who shows a lot of desire.
"Sam Glowinski is the glue of the vaulters' group. Sam's energy and commitment and his willingness to work with the freshmen has been key to our success as a group. Even though Sam has become sort of second fiddle to Matt, it's quite an accomplishment to get someone who's not your superstar but who's willing to take on the challenge and work with the group. They work out and lift together, do the different vaulting drills together, use the high bar and our training rings together. Through that process they learn to correct one another, which is fantastic. I really have to do very little other than motivate them."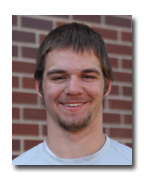 Knox would disagree about Turner having little to do with his success this year.
"HT (Horace Turner) can spend practice time watching you personally to check what you're doing wrong and can also help you correct that," Knox said. "He knows what you need to do right. That's been a great help this season. HT is always watching us and giving us encouragement."
Knox will get a few more opportunities to reach the NCAA Division III provisional qualifying mark of 15 feet, 5 inches. He'll compete this weekend at Purdue University and will enter the North Coast Athletic Conference Men's Outdoor Track and Field Championship Meet at the end of the month as the favorite to win the event after taking first place at the Indoor Championship meet earlier this year.
If he qualifies for nationals, Knox will join a group of Wabash runners that have already posted impressive performances this season. Freshman Jake Waterman earned All-America honors at the NCAA Division III 2010 Indoor Championships in the 800-meter run. Sophomore Kevin McCarthy also earned All-America honors in the 800 and was nearly an All-American in cross country in the fall. Senior Emmanuel Aouad gave the Little Giants three All-Americans at the nationals when he finished third in the 55-meter hurdles.
Knox attributes the team's success as much to the fun they have being around each other as to their hard work and abilities.
"I think a lot of accomplishments have come from how we work together as a team and have fun during track practice," Knox said. "Just a few weeks ago we had a challenge between two track athletes to see who was the best in five events. It was between a thrower and a sprinter, so they did some throwing events and some sprinting events. (Head Track and Field) Coach (Clyde) Morgan stopped practice and we cheered those guys on as they competed. Things like that bring this team together as a whole. We just have fun. Coach Morgan encourages having fun as a team, to make the season fun. He knows that people work better when the pressure is off and people are having fun."